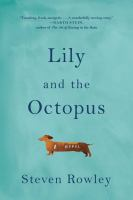 It's a good thing that choosing a Book of the Year isn't truly a necessity for most of us. Less than a month ago I raved about A Man Called Ove, and then Lily and the Octopus came along.
Lily is Ted's daschund and his first and true love. Once Ted notices the octopus on Lily's forehead, tentacles gripped around her brow, it becomes so obvious. He's devastated that he, Lily's daily provider, missed it for so long. As time goes on the octopus grows stronger, grows meaner, until Ted moves from insisting that he will obliterate it to figuring out how they all can co-exist.
This is simultaneously a sweet story that will resonate with dog owners and a perceptive metaphor for discovering cancer in a loved one. It is also an insightful walk through grief. This story connects with me for all of these reasons and I strongly suspect that many readers will equally appreciate it even if they don't directly relate to the circumstances.
Usually, I only have a little bit of time each day for reading. However, I started this on a day of travel and a long layover, allowing me to spend the day with Lily and Ted (and yes, also with the persistent octopus). It was a pleasure to have so much uninterrupted time with them.
With its blend of grief, humor, imagination, and tenderness, this was a smooth, though not necessarily easy, read.