"Would you tell me, please, which way I ought to go from here?"
–Alice in Wonderland by Lewis Carroll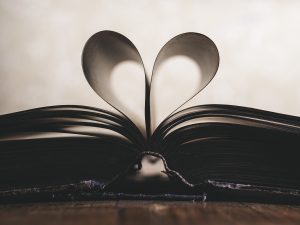 Reading has the power to provide us with comfort and insight during difficult times. Re-reading beloved stories can conjure nostalgic feelings of contentment and happiness, providing emotional comfort and physical relief from stress. Immersing the mind into a fictional world has been shown to "…put our brains into a pleasurable trance-like state, similar to meditation, and it brings the same health benefits of deep relaxation and inner calm" (Dovey 2015).  
The therapeutic power of reading is known as bibliotherapy. It is defined as "the use of books selected on the basis of content in a planned reading program designed to facilitate the recovery of patients suffering from mental illness or emotional disturbance" (Reitz 2014).
The concept of bibliotherapy is not new. In ancient Greece, the phrase "a healing place for the soul" was discovered inscribed above the door to the library of Thebes. In the early twentieth century, reading was used to treat World War I soldiers suffering from post-traumatic stress disorder – Jane Austen novels were prescribed to veterans in the United Kingdom. More recently, bibliotherapy has been used by health care professionals to help patients with bereavement, mental health, and general stress relief.
While librarians are not licensed to practice bibliotherapy, if you or someone you know is struggling with grief, or simply needs a way to relieve stress, the library is here to connect you with materials that can positively support mental health. For books on processing grief as well as those for comfort reading, check out the following recommendations:
Books For Understanding Grief:
Comfort Reads:
Mental Health Information and Resources in the Grand Valley:
The information provided here is intended to give an overview of bibliotherapy and the benefits of reading. Individuals are urged to consult with qualified health care providers for diagnosis and treatment, and for answers to personal mental health questions.
References
Broadway, M. D. (2008). Dealing with Death: Books to Help Young People Cope With Grief. Teacher Librarian, 35(5), 44-48.
Dovey, C. (2015, June 9). Can reading make you happier? New Yorker. Retrieved from http://www.newyorker.com/culture/cultural-comment/can/reading/make/you/happier
Reed, J. (2015, September 16). The Library – "A Healing Place for the Soul". McAllen Public Library: The Renewal Notice. Retrieved from https://mcallenlibrary.wordpress.com/2015/06/24/the-library-a-healing-place-for-the-soul/
Reitz, J. (2014). Online Dictionary for Library and Information Science. Retrieved from http://www.abc-clio.com/ODLIS/odlis_b.aspx#bibliotherapy