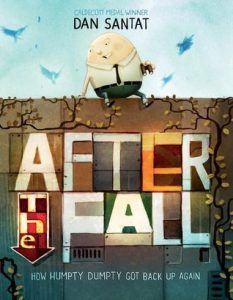 At the end of each year, I love looking at all of the Best Of The Year lists that are published by magazines, blogs, libraries, and more. It is a great way to discover – or rediscover – some of the most celebrated books of the past year.
I came across After the Fall by Dan Santat on the Goodreads Best Picture Books of 2017 list. Santat won last year's Caldecott award for The Adventures of Beekle: The Unimaginary Friend, so I knew a new book from him is most likely going to be great.
After The Fall explores what could have happened if all the king's horses and all the king's men DID put Humpty Dumpty together again. In this modern retelling, he goes to Kings County Hospital and is fully, physically repaired. BUT there is some lingering damage to his psyche: his fall has made him afraid of heights! Unfortunately, this means Humpty Dumpty, an avid bird watcher, is limited to watching birds from the ground instead of from on top of the wall.
With bird watching ruined by his newfound acrophobia, Humpty Dumpty takes up making paper airplanes as a new hobby. Eventually, Humpty Dumpty makes the perfect bird-shaped plane. When he throws it, it soars. It soars high and far and up and over the wall. I won't spoil the ending by telling you what Humpty Dumpty does next, but I will tell you that it is glorious! It actually gave me a chill.