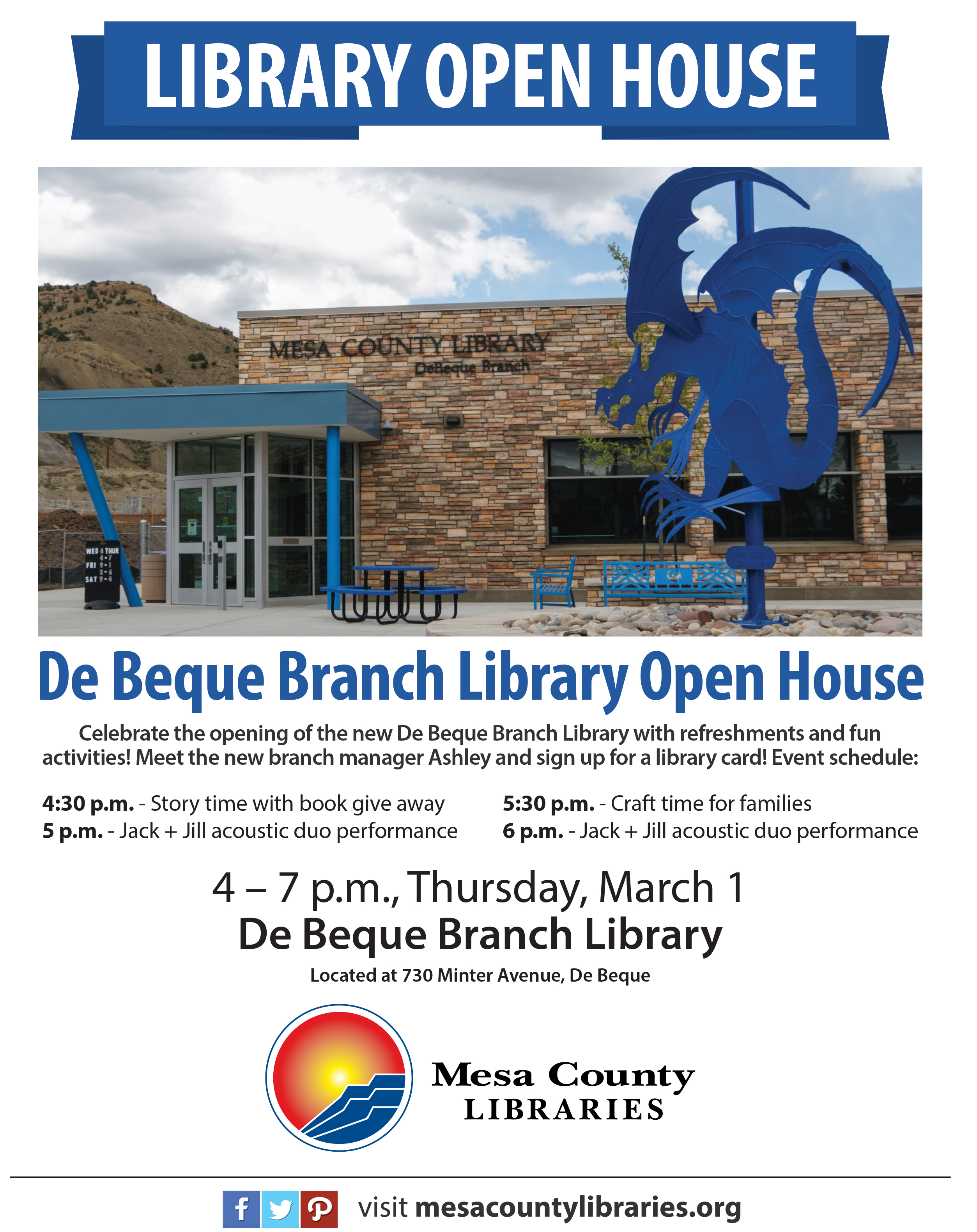 The new Mesa County Libraries De Beque Branch plans to celebrate its opening with an open house from 4-7 p.m. Thursday, March 1. The library is located at the De Beque School, 730 Minter Ave.
Events during the open house include:
4:30 p.m. – Story time, with a book giveaway
5 p.m. – Acoustic music performance by Jack + Jill
5:30 p.m. – Craft time for families
6 p.m. – Acoustic music performance by Jack + Jill
Everyone in the De Beque community is invited to attend the open house and see what their local library has to offer!
The De Beque Branch is a shared facility between the De Beque School and Mesa County Libraries. It was closed last May to allow demolition of the previous facility and construction of the new space as part of the newly built De Beque School. The library, which reopened last fall, serves double duty as the school library when school is in session and as the public library during non-school hours.
Library patrons will find many new amenities, such as an improved, dedicated entrance from the parking lot; a small study room; a larger room for events that includes a projector; comfortable seating; and outdoor seating. WiFi will be available during non-school hours.
The previous library was about 2,500 square feet, and the new library is approximately the same size. The collection contains just over 8,000 items, and it remains the same size. As patrons of Mesa County Libraries, De Beque residents have access to more than 1 million items through the Marmot and Prospector library networks, which include libraries throughout Colorado and the Rocky Mountain West.
De Beque Branch hours are:
4-7 p.m. Wednesday and Thursday
9 a.m.-1 p.m. and 2-6 p.m. Friday
9 a.m.-4 p.m. Saturday
Closed Sunday, Monday, and Tuesday.