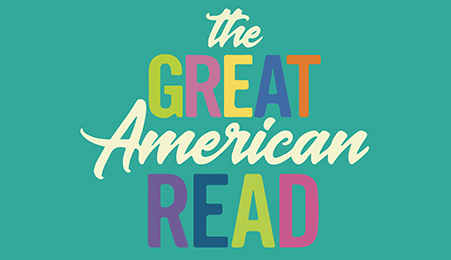 Join Mesa County Libraries and Rocky Mountain PBS in helping choose America's favorite book as part of The Great American Read.
Gather with fellow readers to watch the launch event of the national program from 6:15-9 p.m. Tuesday, May 22, 2018, at the Mesa County Libraries Central Library, 443 N. 6th St. in Grand Junction. A reception to discuss your favorites begins at 6:15 p.m., and a screening of the national launch event begins at 7 p.m.
The launch event will unveil a list of the 100 most-loved American books, and you'll be able to discuss which are your favorites. The launch event is open to the public at no charge.
The Great American Read kicks off May 22 and continues through Oct. 23. The Great American Read is a national effort to spark a conversation about reading and the books that have inspired, moved, and shaped Americans. Readers are encouraged to read books from the list, vote for their favorite, and share their personal connections to the titles.
At the May 22 launch event and at other Mesa County Libraries events this summer, readers will be able to record short video testimonials about their favorite books, with the testimonials posted to social media.
PANEL DISCUSSION: "WHAT MAKES A GREAT BOOK?"
Join us for a panel discussion of "What Makes a Great Book?" at 6:30 p.m. Tuesday, Aug. 14, at the Central Library.
Panelists Jay Ballenberger from Colorado Mesa University, local author Patti Hill, local Daily Sentinel columnist LaReina Kalenian, and Mesa County Libraries librarian and author Di Herald will talk about novels: What draws them into a book, what novels mean to them, their favorite from the list, and what should be on the list but isn't. Questions and participation are encouraged.
This event is open to the public at no charge. See you there!