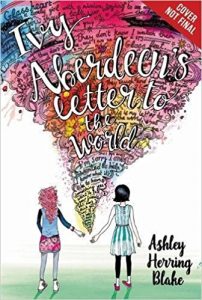 This book was something beautiful. It's hard to find a good LGBT+ book, but this one really, really is. Ivy is relatable, she's someone with problems and needs, she's someone who smiles when she thinks she should, even though she doesn't want too. She's figuring out who she is, just like all of us. When I picked this up, I was intrigued by the beautiful cover, and I was expecting something light, something fun and simple. But I cried, several times, throughout this book. Ivy's struggles spoke to me, and the way she handled them felt familiar.
It's a wonderful book, with an excellent writing style and a beautiful story. A story about a girl, a girl who's lost because she's not what she feels is 'normal'. She has family struggles, life struggles- Her whole house is destroyed by a tornado by the time we're 22 pages into the book. She has friendship struggles and identity struggles- She nearly loses the little bit of 'home' that she brought with her during the tornado. She has hopes, dreams… And so do her friends and her family, so does everyone around her, and it's clear to see how she tries to struggle through everything, how she tries to be happy just because she thinks she should, because nobody ever says it's okay to cry, to be hurt. Everyone always says to be strong, that It'll be okay, even when it won't. This book touches on that, on all of this, in an absolutely splendid way.
-Katie
Teen Reviews presents book reviews by teens in Mesa County. Don't be surprised if you can't find some of these books at the library or in stores: teens who attend Teen Book Club on Wednesdays at 4:00 at the Central Library have access to books before they are officially published.