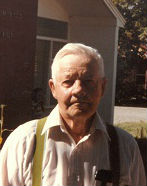 Andrew E. Riddle had a sharp memory, humorous wit, and a lengthy past living in and around Mesa County as one of the area's early settlers.
He was a man of many hats: in the early 1900's he experienced life as a soldier with the National Guard, a cattle and sheep rancher, and a successful Uranium mine owner of the Yellow Bird Mine in Paradox Valley, Colorado.
As an interviewee for the Mesa County Oral History Project, Riddle explains his most vivid memories of living in the Great American West.  In 1914, he was called out of college to work protecting the mines for the National Guard during the Colorado miner's strike. This strike prompted the infamous Ludlow Massacre that same year, where at least 19 people (miners and their wives and children) were killed in their homes.  Riddle expressed being ashamed of his involvement with the National Guard.  His job was to protect the mines during the miner's strike, but he sympathized deeply towards the deplorable working conditions of the miners.
 "…The strike was justified.  They needed to strike.  And…just to give you an example because I bathed there too.  They had a bathtub about twenty feet long made out of wood and they filled it full of water and they turned steam in there to heat it.  There were 800 men coming out of that mine bathin' in that one tub…" – Andrew E. Riddle
Years after his National Guard stint, he moved to Grover, Colorado to live on his father's ranch where he met his wife Eva, whom he called "irresistible." It was there he assisted his father on the ranch and learned the business of herding cattle and lambs. Following the Great Depression years, he moved to Paradox Valley, Colorado, just south of Mesa County.  Riddle proceeded to get back on his feet financially and purchased lambs to herd all the way from Goulding's Trading Post in Monument Valley, Utah to his ranch in the Paradox Valley area.  This was a 150 mile trip on foot.  On several different occasions, he successfully navigated extensive travel while herding hundreds of lambs and sheep through the harsh Utah desert.  His travels included intimate interactions with Native Americans while passing through the Navajo Nation reservation lands in Utah.
Riddle recalled occasions bringing alcohol onto reservation land, not fully aware it was illegal by federal offense at the time.  No wonder everyone so thoroughly enjoyed his visits! He also discussed going to a ceremonial Navajo Yeibichai festival in 1940.  During this type of ceremony, the people dance to invoke Yei.  Yei are a special category of gods who help the Navajo to live in harmony with the rest of the universe.
In some ceremonial dances, Navajo women choose a man to dance with them for as long as they wish.  Riddle remembers some men finding themselves in trouble by their wives if they attended too many dances:
"…When a girl reaches puberty age, their mother announces a squaw dance.  And ugh, they're quite popular with the young men, and and the old guys, too.  Old White Horse, he must have been 55 or 60 years old. He got to going to too many squaw dances so his wife set his moccasins out.  That's all a Navajo had to do to divorce a husband.  Set his things outside of her home and they're through." –Andrew E. Riddle*
Certainly cheaper than divorce court.
If you're interested in reading further about the compelling life of Andrew Riddle or other early Western Colorado settlers, take a trip to the past and check out the Mesa County Oral History Project.       
*Disclaimer: We recognize the term "squaw" as derogatory in modern day times, but for the sake of accuracy, the quote was restated in its entirety.