As my artist residency at the 970West Studio comes to a close, I've been reflecting on how inspired I have been by people in the community this fall. I want to thank the Grand Valley for creating art with me in my sculpting workshops and open studio hours! I typically work in my home studio, so having a public venue in which to create and display my art and connect with people has been an inspiring breath of fresh air.
The 970West Studio is an excellent space to create in. During my time here, I completed three sculptural paintings, one of which I sold to a collector in California, and five sculptures, while also working on a large commissioned metal sculpture in my home studio.
It's been wonderful having a space to display my artwork. I have lots of sculptural paintings exhibited at 970West until January 6th, as well as my kinetic sculpture, Felicia, on display outside. It's been fun watching people discover that they can dance with Felicia, seeing delighted children and grandparents spinning her around and around.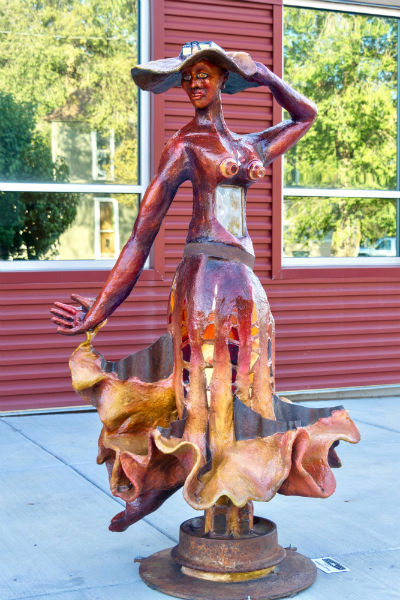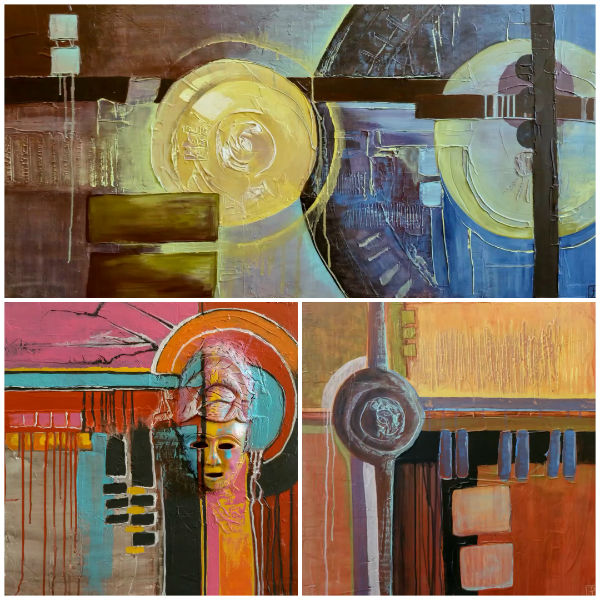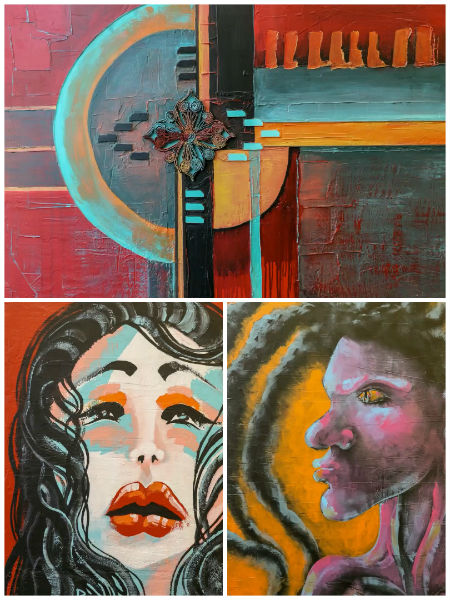 I have really enjoyed teaching sculpting workshops. Inspiring others to create and being inspired by them in turn has been one of the greatest experiences I've had as the artist in residence. In each workshop I taught, I learned new ways of creating art and seeing the world from students of every age.
At the beginning of both my residency and the school year, kids from Chipeta Elementary came to the Discovery Garden to sculpt mandalas, and we had a great time! I will be incorporating each child's mandala into a steel arbor which will frame the entrance to the children's garden and be installed near the end of the school year. We also did this project at the Farmer's Market downtown!
We made superhero masks and anime ears for Comic Con, and sculpted roses at Kids Club. It was awesome to see all of the talent and creativity the kids poured into their projects!
I also taught lots of sculpting workshops for adults. We had a blast making sculptural paintings and sculpting in the round; it was so inspiring to see everyone tap into their creative energy and sculpt beautiful artwork from the heart! At the beginning of one workshop, I gave an artist talk discussing my work and how I've found success in the business of art.
Other opportunities also came to me as a result of my residency at the 970West Studio. I had the opportunity to jury the Culture Fest Art Exhibit, and to help judge the adult costume contest at Comic Con. I was truly amazed by the sheer talent that poured forth from Grand Valley artists and cosplayers!
Being the artist in residence at the 970West Studio has been a true honor and an amazing experience. Thank you Mesa County Libraries and the library foundation for supporting local artists and making this residency program possible. Thank you to all the new friends I made in the community for embarking on this artistic journey with me; I hope to have more opportunities to teach sculpting workshops going forward. I'll also be making more life-sized sculptures for public display next year! If you'd like to keep up with what I'm doing and hear about future classes and events, visit my website at paviajustinian.com and scroll to the bottom to sign up for my newsletter! It's been wonderful being your local library's artist in residence, and I look forward to what the new year will bring!