Teen Reviews presents book reviews and recommendations from teens in Mesa County. Don't be surprised if you can't find some of the books mentioned in these posts at the library or in stores: teens who attend Teen Book Club on Wednesdays at 4:00 at the Central Library have access to books before they are officially published.
Cook, Eileen. You Owe Me a Murder.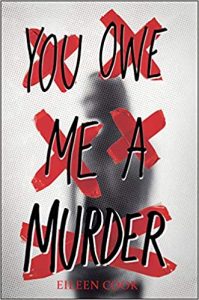 I really like this book because I think it's well written, has really great characters, and I like the setting. I like how in the end one paragraph makes the whole book make sense, and everything clicks into place. I like how much logic is worked into the plot, and I like that it's very unique and original. It's possibly one of the best books I've ever read. I would definitely recommend this book.
Rating: 5
-Alivia, Grade 8
Rating System:
5: Hard to imagine a better book
4: Better than most
3: Readable
2: Needs work
1: How did it ever get published?