Summer's coming to an end, but that doesn't mean you should cease your inspiration for new and exciting library materials! Our staff here at Mesa County Libraries expresses great interest in books and movies scanning a wide spectrum of genres.  The following are staff favorites that stood out this September, all available in our catalog: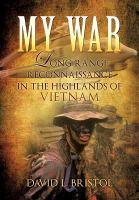 Joe, Technology Specialist: My War: Long Range Reconnaissance Patrol in the Highlands of Vietnam by (local Collbran author) David Bristol
This book is non-fiction and recalls the combat activities of the LRRP's in Vietnam in 1969 and 1970. Highly trained in spying on bad guys way behind enemy lines, the LRRP's (or Lurps) went out as four-man teams, often in areas where over 1,000 bad guys were known to be patrolling. They made frequent "contact" with the bad guys. Very scary stuff. The bad guys were the VC and the NVA.  David Bristol served in a legendary unit: the 75th Ranger Regiment, 4th Infantry Division, K Company.
The stories in his book gave me the chills more than a few times. You know a book is good when it sparks a physical reaction. David talks about running through the jungle after getting spotted, wild helicopter insertions and extractions, crazy pilots, tigers in the bush, intense firefights, POW rescue missions, and the philosophy of "whoever reacts first and most violently" will survive. He also discusses the PTSD that his Ranger training did not prepare him for. He is thoughtful, faithful, and incredibly poignant at times. He also includes several maps and photos. I would recommend this book to anyone who is interested in the Vietnam War, the Army Rangers, military history, anyone who enjoys first-hand accounts of infantryman, and to all veterans. (If you're interested in more stories from the war heroes of our county, be sure to check out the Mesa County Libraries' Veteran's Remember Project.)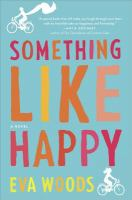 Jennifer, Information Services Librarian: Something Like Happy by Eva Wood
While visiting her mother in the hospital, Annie, who is overwhelmed and generally unhappy with her life, has a chance meeting with Polly, a vibrant, free-spirited woman whom everyone seems to know and like. Without quite knowing how it happens, Annie finds herself Polly's new best friend and the subject of an experiment: for the next 100 days, they will think of one happy thing each day and write it down. Some days are fun-filled and laugh-out-loud silly, while others take more work, but each one focuses on getting the most out of everyday that they live.
Each chapter is a new day and an opportunity to experience something happy. Though it deals with a difficult topic, someone dying of terminal cancer, Something Like Happy by Eva Wood left me with a smile and a hopeful heart.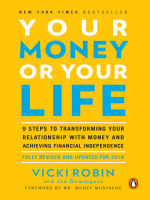 Shanachie, Fruita Branch Manager: Your Money or Your Life: 9 Steps to Transforming Your Relationship with Money and Achieving Financial Independence: Revised and Updated for the 21st Century by Vicki Robin
Learn how to understand your total net worth, not just your tangible assets such as the amount in your bank account or the value of your car, but dig deeper and discover what your true financial health is. Next consider the reasons why you're interested in saving and the steps that you can take – big and small – toward achieving your savings goal. Although this book was originally published many years ago, the author has updated the text work within the context of the 21st century, and with millennials in mind. The author Vicki Robin acknowledges that many of her readers are interested in the emerging FIRE (Financial Independence, Retire Early) movement that is gaining traction among individuals in their 20's and 30's. Overall the book serves as a focus, no-nonsense guide to gaining a true understanding of your finances and teaches you skills to make better financial decisions that support your bigger goals.
The author's style and advice I've found to be helpful. One image that stuck with me is when the author likened your finances to your life force. She points out that our most valuable asset is our time and that when you earn money you are trading it for your time, which is finite and always dwindling. I've found this tool helpful when I'm tempted to make larger or even smaller purchases. When I'm in that moment, I ask myself if I is this thing worth trading some of my life force for?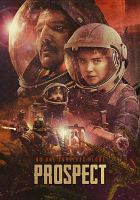 Andrea, Youth Services Library Assistant: Prospect
Prospect is a science fiction movie that follows a teenage girl and her father, as they set off on a new mining operation on a poisonous, beautifully verdant moon. This new job will set them up for a long time, and give them some much needed stability. But while they are landing on the moon, they suffer technical difficulties with their shuttle and are stranded, with only a short time frame to find a ride off of the moon and with hostile mercenaries lurking behind every tree.
Prospect hits several high points for my personal taste. It has interesting dialogue, a landscape that is as beautiful as it is dangerous, and it does not feel the need to hit viewers over the head with analogies or exposition. It is rare to find a good quality science fiction film that does not spend several minutes on unnatural exposition scenes. Prospect manages to avoid that classic pitfall and trust their viewers, while still showing us a fully fleshed out universe, with its own slang, religions, and teenage romance novels. Lastly the relationships between the characters themselves rang true and were compelling, an important factor in a movie which does not focus on fight scenes or monster battles. (This film is also available on Kanopy, a new streaming site offered to you free with your Mesa County library card.)
Bethany, Public Services Library Assistant: Things you Save in a Fire by Katherine Center
Cassie Hanwell, a firefighter quickly climbing the ranks in Austin, Texas, hasn't seen her mother since her mother left on her 16th birthday to be with another man. When her mother calls her and tells her she's sick, Cassie begrudgingly agrees to go live with her mother in Boston for one year to help her out. While navigating the "boys club" culture in the Boston fire station she's hired at, Cassie is also navigating the pain and awkwardness of living with her mother again after all these years. And although she's sworn herself off of love, she finds herself drawn to a rookie fire fighter in the Boston station. The only problem? Her previous supervisor warned her that firefighters should not date other firefighters, especially those they work with.
Things You Save in a Fire is a superb and engaging story about trauma, forgiveness, and love with a bit of mystery sprinkled in. I highly recommend this book to anyone looking for a story with trials and tribulations, and powerful, independent women.