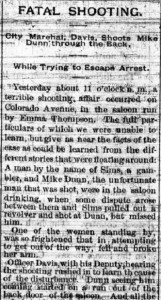 No one is going to confuse Colorado Avenue with San Francisco in its heyday of vice (the true Barbary Coast). But until the 1940's, the street served as Grand Junction's epicenter for adult entertainments, and thus took on the Barbary Coast moniker.
The Grand Junction News presented early accounts of murder and mayhem on Colorado Avenue. In one incident in late 1882, the News reported that "a man under the influence of tangleroot" fired a gun inside a saloon. In reporting on another episode from a Colorado Avenue saloon in the November 11, 1882 edition, the News ran the headline Fatal Shooting: City Marshall Davis Shoots Mike Dunn through the Back While Trying to Escape Arrest.
Throughout its early history, Colorado Avenue also seems to have been known as a place of brothels and prostitution. Mesa County Oral History Project interviewee Glenn McFall, who tried to help prostitutes when he could, because one had helped him with money and a train ticket when he was stranded as a teenager, reported that there was a brothel at 240 Colorado Avenue up until the 1940's. He also recalled five or six more brothels farther east on the street, in addition to those on South Avenue. Jean Urruty, a Basque immigrant who rose from rags to riches, helped to close down brothels in the area when he and another hotel owner bought up properties on the Avenue. In his interviews, he recalls that at first, the police were no help in closing the red light district, because they did not think that prostitution could truly be driven underground. Fritz Becker, a longtime police officer, confirms this attitude in his interview, and even says that at least one officer he knew was on the take.
For more information about colorful Colorado Avenue and the history of prostitution in the area, check out the Mesa County Oral History Project online and the microfilm reels of the Grand Junction News, located downstairs at the Mesa County Libraries Central Library.