The Mesa County Oral History Project contains some unexpected recordings, such as a meeting of the Last Squad Club (a group of World War I veterans), the True Epics of Western Colorado radio plays that aired on KREX in the late 1950's (and announced in part by Solon Gray, who later became a TV reporter and anchorman in L.A., Miami and other markets), and an anonymous interview with a man named Lee, who lived a hard, troubled life with ultimate redemption.
Lee ran away from home in Oklahoma at the age of thirteen. His grandmother, he said, had tried to kill him, and the enmity was mutual. He took up with his father. Because his father was a wanted man, they moved frequently across state lines and changed their identities with each move in order to stay a step ahead of the law. Lee washed dishes and did other odd jobs. Finally, in Salt Lake City, his father arranged for Lee to be adopted by a nice Mormon family. But Lee had started drinking and hanging out with other street kids by then, and gave the family all sorts of grief. He ran away to his sister's house in Grand Junction, Colorado. She and his brother-in-law tried to give him a stable home, but he put them "through absolute hell."
His father thought the armed forces might give Lee some stability, and so he joined first the National Guard and then the Army. But he drank throughout his enlistment, and was finally discharged. After that, he went through years more substance abuse, jail time, and jobs gained and lost. When he did finally get his act together, sobering up, enrolling in Mesa College, holding down a job, renting his own place, and maintaining a relationship with a girlfriend, it all came crashing down (though not due to alcohol). He had a mental breakdown and was hospitalized in the Fort Logan Mental Health Center in Denver, although this time, thanks to the help of Grand Junction's Alcoholics Anonymous (AA), he did not drink.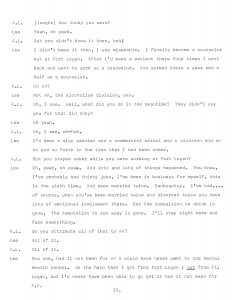 In fact, Lee never touched another drop of alcohol. Instead, he became a counselor for patients at Fort Logan. He later became an organizer for AA, and even started a youth-oriented AA for kids with substance abuse problems in Grand Junction; quite a turnaround considering his humble and tumultuous beginnings.