Happy February!  You, my fellow readers, can rejoice in being a bit spoiled this month because 2020 is a leap year.  That gives you one whole extra day to check out some of these recommended titles from Mesa County Libraries staff. Hooray! A ray of sunshine amidst the large, hovering, consistent blob of winter grey. The following picks are available in Mesa County Libraries catalog:
Andy's Pick: Saga series by Brian K. Vaughan and Fiona Staples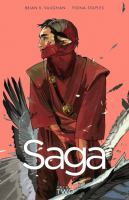 I've been really enjoying the graphic novel series Saga by Brian K. Vaughan and Fiona Staples. It's an interstellar fairy tale about war and family – the main characters are in love but are from different sides of an age-old interstellar war. When they have a child, both sides want them dealt with. It's definitely more on the grown-up side of graphic novels, but it's compelling. The characters are very individually realized and fascinatingly drawn.
Shawn's Pick: Ten Caesars: Roman Emperors from Augustus to Constantine by Barry Strauss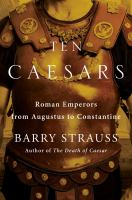 I have always had a fascination with Roman history and thanks to reading Suetonius' The Twelve Caesars, I have been particularly interested in the Roman emperors.  Barry Strauss' Ten Caesars: Roman Emperors from Augustus to Constantine just happens to be a book that covers both topics.  While written by a scholar, the book is not a dry scholarly history, it is aimed at the general reader and Strauss does a good job making the book both interesting and informative.
Though Strauss' presentation of each emperor is pretty standard — a historical context, how he came to power, why he was important, and what happened after he died — he also includes more about the "women behind the men" than I ever remember reading in such a book.  Strauss goes beyond just mentioning the mothers, step-mothers, wives, sisters, and mistresses of the emperors; he discusses how they helped the emperor's get to their positions, how they helped rule the empire and why they were important.
If you want to learn more about Roman history without "reading a history book", Ten Caesers: Roman Emperors from Augustus to Constantine is the book for you.  It is well researched, informative, more importantly, it is well written.  It reads more like a novel than a "history book"; which is the best of both worlds, the reader gets entertained and learns something too!  
Sandra's Pick: Vivaldi by Helge Torvud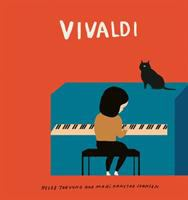 Vivaldi is about a girl named Tyran that does not like school because her classmates isolate her for being different and because she NEVER speaks up at school. During a magical summer, Tyran meets a cat that needed to be rescued and names him Vivaldi. Vivaldi and Tyran become a fantastic team by helping each other discover the colors and adventures of life.
This book is excellent for kids and adults. It's very entertaining, the art is fantastic, and it tells a story on how to find comfort in pets.  I believe that becoming a pet owner helps you start caring for somebody other than yourself. It all starts with knowing that your pet needs food, play, and this gives you the motivation or obligation of getting out of bed and starting your day. Another common way to experience this is by simply opening the door after a long day and having your pet greet you happily. I call that unconditional love. Thank you ESA (emotional support animal), therapy pets, and service animals for your absolute service and love!
Giselle's Pick: The Wolf in the Whale by Jordanna Max Brodsky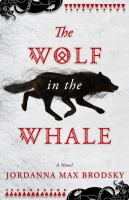 This book was engaging for so many reasons. I'm happy that the author researched both cultures:  Inuit and Norse, and the gods of both cultures. The descriptions of the land, practices, and customs of the cultures were so interesting and well done I didn't want the story to end.  I wanted to fly like Raven, run like Wolf, and thunder like Thor.
If you like mythology and a well written, well thought out plot and storyline this tale will not disappoint you. I rarely purchase novels but might purchase this one and share with everyone that I think might enjoy it (or you can check it out at the library)!
Ike's Pick: Escalante's Dream by David Roberts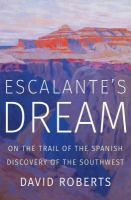 Escalante's Dream is the newest book by David Roberts, who is well known for his books about the history and prehistory of the Southwest in addition to his adventure writing. His most recent title documents his tracing of the Dominguez-Escalante expedition of 1776. 
I always enjoy reading about local history and this was a well-researched and readable work. I had previously read three additional books on the topic of 18th Century Spanish exploration of western Colorado and it's fun to see how all of the facts connect and relate to each other.