Now that we're in the heart of April, here are some new recommended favorites from Mesa County Libraries and its wonderful employees.  Our staff truly misses the library and its patrons, and to get us through these trying times we're keeping our minds full and flourishing with the following recommended reads:
John's Pick: The Name of the Wind by Patrick Rothfuss
This story revolves around the main character Kvothe, telling the tale of his life over the span of three days.  Kvothe is a legend.  He is known to many people, but he has decided to live in seclusion, hiding his identity from those around him until a man named Chronicler finds him.  He convinces Kvothe to recount all of his glorious tales from his own perspective.  The tale of a hero, however, is not always as glorious as you may think.  This is definitely an adventurous tale for anybody that wants to hear of a man rise from nothing, only to seek a return to it. It is a fantastic book, and I would recommend it to anyone that wants to sit for a while and let their imagination run wild.  The imagery is fantastic, and the story is very well-paced.  I would also recommend reading it now because the final book of the trilogy is set to release this coming fall.
Melissa's Pick: Fountains of Silence by Ruta Sepetys 
(eBook and eAudiobook available on Overdrive!) 
Recently an audiobook I've loved was Fountains of Silence by Ruta Sepetys. Set in 1950s Spain under dictator Franco's leadership, this is the story of Daniel, an aspiring photographer who visits Spain with his wealthy parents after high school graduation. He stays in the Castiana Hilton, where he soon becomes friends with several locals who work there and serve him, and where he discovers that things aren't always as they seem. It's an interesting look at the "war after the war". This book has history, mystery, romance, and adventure. The audiobook is particularly a good listen for its accents, with multiple narrators that bring the story to life.
Di's Pick: The Age of Witches by Louisa Morgan
(eAudiobook available on Overdrive!)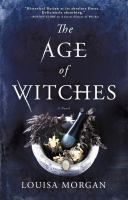 Almost two hundred years after a woman was hanged as a witch, two of her descendants, who have followed very different paths clash in the Gilded Age of the 1890s with the fate of another descendant, a young heiress the focus of their conflict. Frances, who practices a dark foul form of magic takes her stepdaughter Annis to London to snag a man with a title. Harriet, a spinster herbalist follows to use her benevolent magic to fight for Annis's happiness.
Jennifer M.'s Pick: A Trip to the Beach by Melinda and Robert Blanchard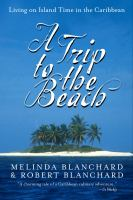 If all you want to do is escape for a while to a sandy beach where "island time" rules,  A Trip to the Beach by Melinda and Robert Blanchard charts their move from Vermont to the island of Anguilla where they decide to open a restaurant. This nonfiction title reads quickly and is at times laugh out loud funny as they struggle to adapt and persevere. This is one of my all-time favorite reads that I revisit whenever I need to "get away."
We know times are strange and you can't check out or place holds on some of these items currently, but keep these titles in mind for the near future.  In the library's catalog you can start a reading list for future reads anytime, day or night! Simply login to your account on the catalog, search for your desired title, and click on "Add to List" (see screen shot below for example).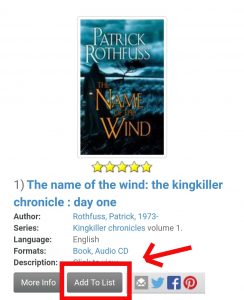 Be well and keep on reading!