Researching accurate historical information is one of the most fun and fascinating elements of writing the Local History Thursday blogs.  A wonderful free resource I use often that's especially helpful if you're stuck at home is the Colorado Historic Newspapers Collection.  This online resource offered by Mesa County Libraries features articles written all the way back from 1859 up to 2019 from newspapers in cities dotting the expanse of the Colorado map. 
This resource can be used for educational research, finding obituaries for a genealogy project, recreational expansion of Colorado history knowledge, printing out a "what happened 100 years ago on your birthday" for a beloved relative, giggling at the absurdity of old advertisements, finding cool black and white photos of beloved landscapes, and reading about all the ways Colorado's original pioneers spent their time professionally and socially. 
How to access Colorado Historic Newspapers Collection
Head to www.mesacountylibraries.org

Click on eResources

Click on the Colorado Historic Newspapers Collection

Begin searching by date, keyword (specific name or a person, location, organization, event, etc.), county, city, or specific newspaper publication
Once you find your desired search topic, be sure to register and create an account! It will make it easier to save any articles of interest and allow you to clip a specific article to download as an image file.  You can also email an entire daily newspaper or a specific article from that paper to yourself or others. 
For example, I searched the collection for the subject term "library" appearing in the Palisade Tribune sometime between 1920-1930.  Upon doing so I stumbled upon this lovely and still relevant article explaining why the community needs a local library, written in 1924: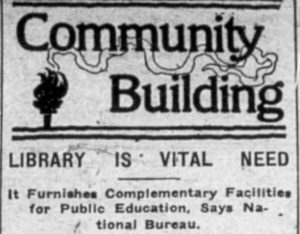 "No community is completely equipped with facilities for public education unless, in addition to adequate schools, it has also a public library accessible to gaining general recognition… The purposes for which people read may be classed under the heads of information, inspiration and recreation, and the public library supplies literature for each of these ends. In the practical affairs of life, the library is a constant aid in all the various occupations for the farmer, mechanic, business man and professional worker, and enables one to increase his efficiency in his present vocation and also, if desired, to prepare himself for something better. The public library also contributes no small part to public education as to the bulwark of good citizenship and patriotism. " – The Palisade Tribune, 11 January 1924, p.3
If you ever have questions on how to use this eResource or any of Mesa County Libraries wonderful educational databases, don't hesitate to email ask@mcpld.org with any specific inquiries. 
Featured image source: flickr.com