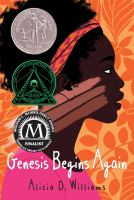 Sometimes it is tough for tweens, those kids on the cusp between being children and teens to find a book they enjoy. Media tells them they should like this, teachers tell them they should read that, and their friends are reading another thing. The important thing is to find a book that resonates with the reader. Genesis Begins Again, a debut novel, Alicia D. Williams' first published book, is my current favorite to share with readers.
It is a book for people, not only for children, not only for teens, not only for adults but for human beings of any age or color. I was fortunate to have the opportunity to discuss this book with several people of different ages, races, and ethnicities before it won any awards and discovered that it spoke to all of us. All the angst, dreams, and ambitions of being thirteen is relatable by anyone. Genesis faces some tough issues and they may be exactly what a tween reader needs to escape from their own worries.
Reading is such a personal activity. Each reader's experience and filters color the story turning the black letters on the white paper into world of shade and hue. Sometimes a book comes along that even though each reader will find something different in it, it appeals to a broad spectrum of readers.
In addition to being named to multiple best of the year lists, Genesis Begins Again, was a finalist for the Morris Award for "an impressive new voice in young adult literature," it was named a Newbery Honor book, and it won the Coretta Scott King – John Steptoe Award for New Talent.
Genesis has ninety-six things she hates about herself but finally it looks like she may have some friends. Unfortunately, the day she brings her new friends home after school, she finds the landlord has put all their belongings in the yard and she and her mom will have to move in with her disapproving grandmother.
A good book is a great escape and fortunately, while tweens need an escape from the social distancing caused by COVID 19 they can join Genesis in her world via an ebook or audio book from our Overdrive collection. The audio book was narrated by the author, Alicia D. Williams.
Join us at Kids Read: Choose Your Own Book every week on Tuesday at 4pm (virtually while the library is closed) for kids to talk about what they have read and find their next good read. Check the library's Event Calendar for login information.