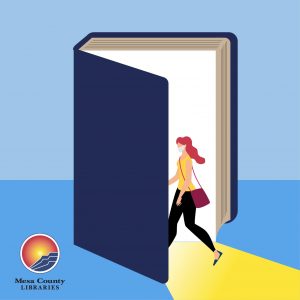 7/16/2020 update:  Please note, due to a state-wide order from Governor Polis, all patrons aged 11 and over entering the library will be required to wear a mask as of 7/17/2020.  Masks will be provided for those who don't have one. Please do not come to the library if you feel ill.

The following individuals are exempt from the requirements of this Executive Order:
Individuals ten (10) years old and younger;
Individuals who cannot medically tolerate a face covering.
Individuals performing the following activities are exempt from the requirements of this Executive Order while the activity is being performed:
Individuals who are hearing impaired or otherwise disabled or who are communicating with someone who is hearing impaired or otherwise disabled and where the ability to see the mouth is essential to communication;
Individuals who are seated at a food service establishment;
Individuals who are exercising alone or with others from the individual's household and a face covering would interfere with the activity;
Individuals who are receiving a personal service where the temporary removal of the face covering is necessary to perform the service;
Individuals who enter a business or receive services and are asked to temporarily remove a face covering for identification purposes;
Individuals who are actively engaged in a public safety role such as law enforcement, firefighters, or emergency medical personnel;
Individuals who are officiating at a religious service; or
Individuals who are giving a speech for broadcast or an audience.
————————————
Beginning today, July 13, 2020, all Mesa County Libraries locations are resuming their normal hours of operation.
You can find a full list of hours here. 
We are excited to return to regular hours for the convenience of our patrons. Our libraries have operated on a modified schedule since reopening June 8. We appreciate our patrons' patience as we retooled our library operations in response to the coronavirus pandemic.
Curbside pick-up of holds is available for patrons who are not comfortable entering library buildings. Information about using curbside pickup is available here.
Some services are still limited as follows:
SERVICES – What's available?
Public computers / Chromebooks and printing
Browsing the collection and checkout
Copying
Wifi
Limited tables and chairs for studying and work
Limited study rooms (check this page for specifics)
Branches are open with the same limits
What's not available?
In-person events, programs, and classes
Community rooms
Meeting up and hanging out
In-depth, in-person assistance
Volunteer opportunities
Toys and games in the play area
Most lounge seating
Digital conversion station
Magazine exchange
Book donations
Additional services available:

Holds and assistance via the Call Center at 970-243-4442
24/7 eBooks, streaming video, and eResources
Book-A-Librarian and tech help via computer or phone – call 970-243-4442
Online programs – on Facebook, Instagram and You Tube
Live story times happen at 10 a.m. Tuesdays, Wednesdays, and Thursdays on the Mesa County Libraries Facebook page at facebook.com/mesacountylib