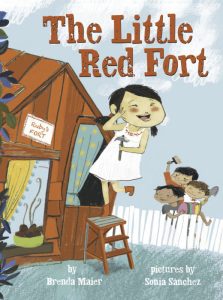 From Oct. 13-25, every 4-year-old child in Mesa County can pick up a free copy of "The Little Red Fort" as part of the annual One Book Colorado program.
Copies of the book are available at all Mesa County Libraries locations in downtown Grand Junction, Clifton, Collbran, De Beque, Fruita, Gateway, Orchard Mesa, and Palisade. Simply stop by and pick one up! Patrons who use Curbside Pickup may also request a copy for their 4-year-old children when they schedule their pick-up time.
Copies are available for any child who is, was, or will be 4 years of age during 2020.
"The Little Red Fort" by Brenda Maier and illustrated by Sonia Sánchez is loosely based on the classic tale "The Little Red Hen." It tells the story of a girl who wants to build a fort and tries to enlist the help of her brothers. Copies of the book are available in English or Spanish to all 4-year-olds in Colorado, and the books are theirs to keep at no charge.
New this year, Mesa County Libraries are partnering with Downtown Grand Junction businesses to offer a StoryWalk®. Pages of "The Little Red Fort" will be placed in the windows of participating businesses so families can stroll downtown, read the book, and then visit the library to pick up their own copy. The StoryWalk® will take place Oct. 13-25. Find more information about the StoryWalk® and a link to the location map here.
Picking up a copy of "The Little Red Fort" gives families a great opportunity to read together. Family members are children's first and most important teachers, and the purpose of the One Book Colorado program is to encourage early literacy skills. There is no better way to instill a love of reading in children than for family members to read with them.
This year, One Book Colorado will provide more than 75,000 books to 4-year-olds statewide to encourage families to read together.
In its ninth year, One Book Colorado is a statewide collaboration among Serve Colorado, the Colorado State Library, the Colorado Department of Education, the Denver Preschool Program, Denver7, Mile High United Way, public and military libraries statewide, the private sector, and the nonprofit and foundation communities. For information, visit onebookcolorado.org.
(The StoryWalk® Project was created by Anne Ferguson of Montpelier, Vermont, and was developed in collaboration with the Kellogg-Hubbard Library. StoryWalk® is a registered service mark owned by Ms. Ferguson.)