Hyrule Warriors: Age of Calamity goes big and certainly doesn't go home! Like the other modern Warriors games this is a hack and slash battlefield adventure. We have a wide variety of characters to play as, from Link all the way to Prince Sidon and even Master Kohga of the Yiga Clan. Each character has their own abilities and fighting style which you use to trample your way across battlefields throughout Hyrule, saving other allies and fighting against Calamity Ganon. While the game starts out as a prequel to Breath of the Wild, the addition of a friendly time-traveling baby guardian (for lack of a better description) causes some changes in the story. When things start looking grim for our heroes, baby guardian begins to bring characters from the future to help out in the past, when Age of Calamity takes place. Thus we have an increasing line up of fun characters to play as and many challenges to overcome as Calamity Ganon attempts to bring all of Hyrule under his malevolent control.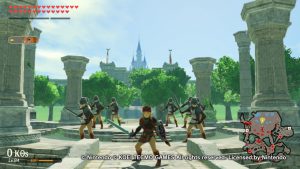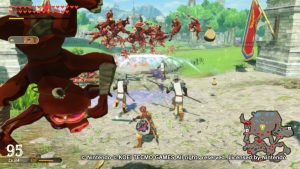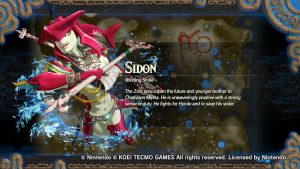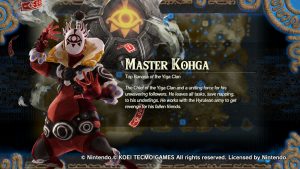 I had played the first Hyrule Warriors and Fire Emblem Warriors previously so I knew what to expect with this game but I still had some worries. Hack and slash games aren't always my cup of tea because they can be tedious if you are just repeating the same actions over and over. AOC exceeded my expectations with an interesting story, quirky characters, so many side quests and entertaining game play which makes this hack and slash feel satisfyingly complex. In my heart of hearts I still just want Breath of the Wild 2 but that isn't going to be released for another 1-2 years. So in the meantime AOC is a good way to visit Hyrule again.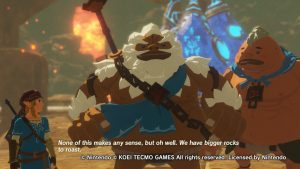 Maybe the only word of caution I have for this game is that it will be more fun if you have played Breath of the Wild. It takes place in the same huge map and has all the same characters, even Koroks you can find on the battlefields. It's not a bad game if you haven't, but knowing the story of BOTW gives this game more depth and increases the fun found rediscovering that world. Either way, it's pretty easy to learn which makes it playable for novice and expert players alike. Hyrule Warriors: Age of Calamity is a pricy game so I would highly recommend trying our library copy before you decide to get or gift it for Christmas! As always, files save to your Switch not the cartridge, so you can always come back to your save file again next time or with a different cartridge. And if you do decide to try Age of Calamity, good fortune on the battlefield friends!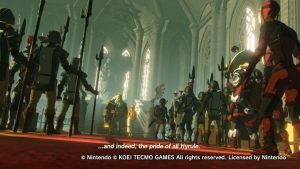 I rate this game 8/10.
It is rated T for Teen due to fantasy violence.
Hyrule Warriors: Age of Calamity is available on Switch at the library here: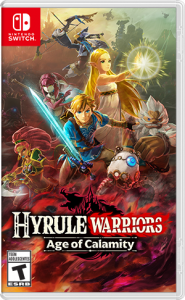 Related titles can be found here: