First off, happy New Year everyone! 2020 has been…interesting to say the least and to celebrate a new beginning I choose a unique game to review. Something different and out there and much more enchanting than I had gambled on.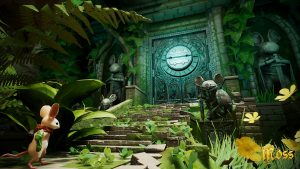 Moss is a virtual reality (VR) PlayStation game that follows the storybook adventure of Quill, a darling small mouse warrior, as she attempts to save her uncle and the kingdom. The story progresses through various puzzle solving levels as you control Quill and….yourself? This is the first game I've played where I have been featured as a character.  Not my avatar, not a protagonist I named after myself, seriously me! Using one joystick I control Quill, with the other I control an orb that can interact with the environment and Quill knows I am there. She looks at my face when I move close, high fives me when we succeed and refers to me as "the giant" and the reader who is helping her. Being "seen" by a video game character is a very interesting feeling indeed!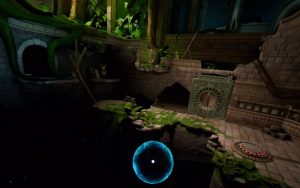 This is all possible because of VR. With the PlayStation VR headset on the game knows where I am in it's 3D world which allows Quill, other characters and the environment to interact with me and my controller. It can tell where I am looking so when I gaze around the sun dappled forest, I am looking around a full 360 world which I can reach out and touch. The whole world is mouse sized and looking around the stunning scenes from a foot off the ground is a weird, amazing experience.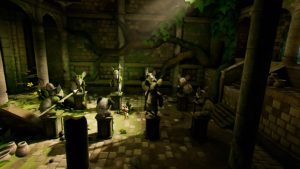 The best parts of this game are on full display the second you start playing. The 3D world is like Redwall or the Borrowers come to life and is truly surreal. Having Quill look at you and react like a small real person is endearing and strange. It's like an imaginary friend that suddenly asks why you need to wear glasses or how long till lunch. The coolest thing about Quill is her use of American Sign Language however. She doesn't do long sentences but, outside of cutscenes, she doesn't speak and will do ASL or pointing etc. to communicate. When you take too long to solve a puzzle, she looks at you quizzically and then gestures a suggestion very organically, since you are just friends on an adventure together after all. I've never seen ASL used in video games this way, in any form actually, and I love that it was included. Everyone deserves to experience adventure and Quill's use of ASL makes this game friendly and accessible to a whole new audience of players.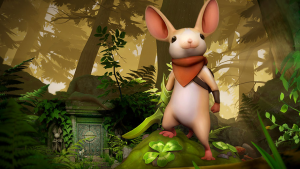 On the other hand, the drawbacks of this game are obviously before you even start playing. The PlayStation VR headset is very expensive, the cost of a whole console in some cases. I know few people have access to one, which almost stopped me from reviewing this game, but I wanted to talk about it because I think we will see cheaper VR in the future as the tech gets finessed over time. The other downside is VR motion sickness. I can only play the game for an hour at a time before I start feeling icky and other folks have various levels of tolerance for VR.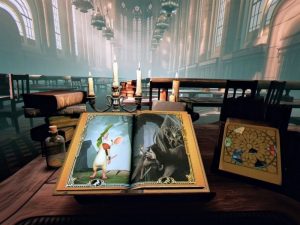 Overall, ignoring the barriers to play, this is simply a magical game. I've never felt such immersion and full experience of a fantasy world like this. Because Quill is so real I get truly upset and guilty whenever she takes damage from enemies or falls off a ledge. She is my little friend who I need to protect! After I finish the game, because I certainly intend to see this journey through, I think I will start the Redwall series again, as small heroes remain some of the best to cheer for!
I rate this game 9/10 and it has a ESRB rating of E 10+ for everyone ten and older.
Click here to borrow the library's copy of Moss for PlayStation 4 and PlayStation VR: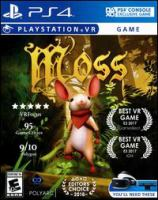 Click here for more related items: