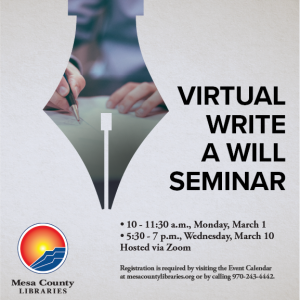 During March, the public is invited to one of two free Virtual Write A Will seminars designed to help you plan now so that your wishes will be carried out later. Attend one of these no-obligation seminars via Zoom and learn about will-planning basics:
How do you know whether you need a will?
How to avoid problems in your will.
How do you create a plan that reflects your personal and charitable wishes?
These 90-minute seminars, conducted by local estate-planning professionals, take place online via Zoom on the following dates:
Virtual attendance at the seminars is open to the public at no charge.
Registration is required by visiting the Event Calendar or by calling 970-243-4442.
The seminars are hosted by Mesa County Libraries and the Mesa County Fundraisers Network.
Seminar presenters include:
Kelianne Chamberlain, counsel and shareholder with Hoskin, Farina & Kampf. Chamberlain assists clients with estate planning, probate, trust administration, and other topics.
Marsha Harbert, president and senior trust officer with Two Rivers Trust. Harbert has 15 years' experience as a trust administrator and officer and is a certified trust and financial adviser.
Erica Eng, director of organizational development and patient experience at Community Hospital. Eng serves on the Advance Care Planning Task Force, a group of hospitals and human-service agencies that collaborate to educate the community about advance care planning.
Jennette Price, development officer for HopeWest. Price has an extensive background in insurance and Medicare knowledge.