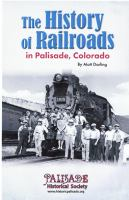 Local history buffs, rejoice!
A new book has been published by the Palisade Historical Society. Written by local historian and railroad enthusiast Matt Darling, "The History of Railroads in Palisade, Colorado" has made its way to our library shelves. This read explains the complications, successes, and technicalities of the railroad making its way through the Grand Valley region, specially Palisade.
Darling details the battle between railroad companies while beginning to scout building routes through the Grand Valley.  The dispute began in the 1870s; the Atchison, Topeka, and Santa Fe Railroad (AT & SF) were found surveying the same areas as the Denver and Rio Grande (D&RG) Railroad. After battles in court, the D&RG Railroad won the rights to build through Colorado, while AT&SF railroad would build in New Mexico. The D&RG initially ran through Montrose, up to Delta, then onward to Grand Junction for the first time on November 22, 1882.
Darling reports on the expansive progress of the railroads, explaining how the D&RG Railroad and the Midland Railroad joined forces to supply each other with the necessary finances to create a new railroad called the Rio Grande Junction Railway (RGJ).  This effort catalyzed the completion the first train travel through Palisade, Colorado on November 15, 1890.
Our beloved agricultural scene in Palisade took flight with the addition of the railroad, and was (in Darling's words), "bursting with peaches and coal which could be sold in the mining towns.  The railroad opened much larger markets for Palisade products.  In additions, railroad advertising encouraged people to move west, portraying the area as a great place to live."
Darling's book continues on to discuss how the railroad and Palisade were effected during World War I, the mechanics of shipping fruit during the height of the peach productions in the 1950s, shipping coal, and Palisade's passenger depots. One of the first train depots in 1909 Palisade moved on to become a residence, then the offices of the United Fruit Growers' Association, and is still an important building in the community today – it now houses Peach Street Distillers.
The book is full of wonderful photographs and thoughtful information sure to satisfy your local history needs. Browse this title and many more in our catalog to place holds and expand your knowledge of this splendid county.