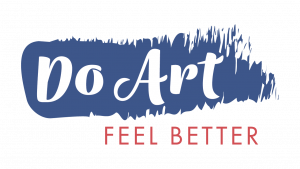 What has helped you cope with the pandemic? A new community art project lets Mesa County residents share how they endured the past year.
Beginning the week of April 12, county residents can pick up an all-ages "Do Art, Feel Better" Take and Make kit from any Mesa County Libraries location or The Art Center of Western Colorado while supplies last. The kits contain a ribbon and instructions, and residents can use their individual creativity to decorate the ribbon so that it expresses what helped them the most. There is no charge to participate.
Ribbons can be returned to your local library branch the week of April 26,and they will be placed in trees throughout the county in early May. Then they'll be gathered and sewn together into tapestries that will be displayed throughout the community this fall and winter.
The idea behind the "Do Art, Feel Better" project is to promote creativity as a method of relieving stress and fostering resiliency. During the COVID-19 pandemic, many people turned to art and writing as ways to handle the stress and uncertainty of the pandemic's turmoil. This project seeks to capture the ways that Mesa County residents dealt with the pandemic in their own ways.
Partners in Do Art, Feel Better include Mesa County Libraries, The Art Center of Western Colorado, the Grand Junction Downtown Creative District, the Western Colorado Writers Forum, and Museums of Western Colorado. The project is supported financially by a grant from the Grand Junction Commission on Arts and Culture.