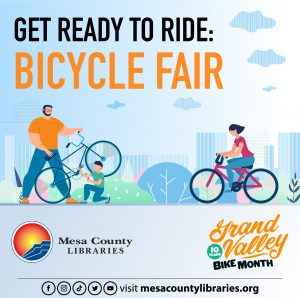 Start bike season right by attending a Bicycle Fair that will help cyclists of all ages get ready for Bike to Work/School Day.
The Bicycle Fair happens from 10 a.m. to noon Saturday, May 1, in the East Parking Lot of the Central Library, 443 N. 6th St., Grand Junction.
This community event is a great place to get information about bike commuting, bike maintenance, safe routes to school, health and training tips, bike safety, proper helmet fitting, bicycle registration, and more. Learn the best routes through town, get helmets for the kids, and discover the thrill of bicycling in the Grand Valley — all at no charge!
More information about Grand Valley Bike Month 2021, Bike to Work/School Day, and other bicycling events is available at healthymesacounty.org/bike-month