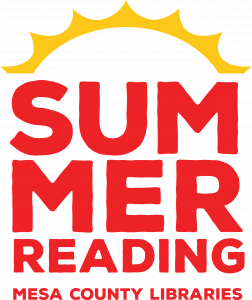 Now that summer is here, be sure to include Summer Reading at Mesa County Libraries in your plans!
Summer Reading 2021 begins Tuesday, June 1, and wraps up Saturday, July 17. Along the way, kids, teens, and adults will have opportunities to pursue their reading goals, win prizes in biweekly drawings, and exercise their creativity in a variety of ways!
Here are just a few fun features of Summer Reading 2021:
Special summer Take and Make kits for kids and teens
Virtual and hands-on Summer Reading Experiences for kids on topics like music, ocean science, and magic (details in the Event Calendar)
Outdoor, in-person children's story times and Kids Clubs to be held throughout Mesa County (for times, dates, and locations, see the Event Calendar)
Biweekly prize drawings for kids, teens, and adults
Participate in the library's new Mirrors and Windows Reading Experience – it counts for Summer Reading, too!
Special entertainment guests coming to us via Facebook include:
– Musician Laura Doherty, 2 p.m. Tuesday, June 1, on Facebook. Children's musician Laura Doherty performs breezy folk-pop tunes from her award-winning CDs, which feature her adorable puppet friends!
– Drum Safari, 2 p.m. Thursday, June 3, on Facebook. Clap, stomp, and shake your tail feathers! During this exciting Drum Safari adventure, we'll collect fascinating facts about rare animals as we explore Africa and Australia.
– Bilingual musical show with Criss Cross Mangosauce, 2 p.m. Wednesday, June 9, on Facebook. This family-oriented musical performance features traditional songs, chants, and riddles from Latin American oral traditions. Get ready to dance!
– Musician Steve Weeks, 2 p.m. Thursday, June 10, on Facebook. Expect richly layered music from Steve Weeks, in addition to songs describing outlandish stories or touching tales for all to enjoy. The show is online, but be prepared to laugh, sing, and dance!
All ages are welcome to participate in Summer Reading at Mesa County Libraries, and there's no charge!
Registration opens June 1 at mesacountylibraries.org and at all library locations.
Keep watching mesacountylibraries.org and follow Mesa County Libraries on Facebook, Twitter, Instagram, and TikTok for more details about Summer Reading 2021!