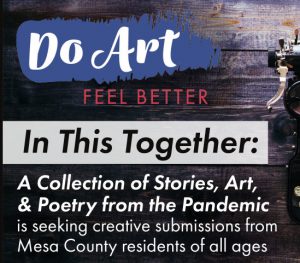 The submission deadline for the "In This Together" collection of writing and art from the pandemic has been extended to
midnight Thursday, July 1, 2021.
The collection seeks to gather stories, poems, and artwork that Mesa County residents created during the coronavirus pandemic into a volume that will capture how creativity was expressed during the past 15 months.
This published collection is supported by Mesa County Libraries, Friends of Mesa County Libraries, the Western Colorado Writers' Forum, and the Western Colorado Community Foundation.
The collection is open to Mesa County residents of all ages, and there is a limit of two submissions per person. Please view the Submission Guidelines for complete details.