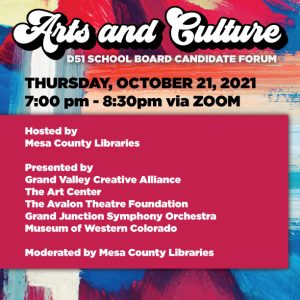 An Arts and Culture Forum for School District 51 Board of Education candidates is scheduled for
7 p.m. Thursday, Oct. 21,
online via Zoom.
Online attendance for the forum is limited to 100 viewers, who will be admitted on a first-come, first-served basis. The Zoom link is available on the
Mesa County Libraries Event Calendar
.
Questions will be gathered from organizations hosting the forum. It will be moderated by Michelle Boisvenue-Fox, director of Mesa County Libraries.
For those unable to view the forum live, it will be recorded and will be available for later viewing on the Mesa County Libraries YouTube channel at 
youtube.com/user/yourmcl
Hosts of the forum are the Avalon Theatre Foundation, the Grand Junction Symphony Orchestra, Museums of Western Colorado, the Grand Junction Creative Alliance, the Art Center, and Mesa County Libraries.