On October 8, 2021, Indigenous Peoples' Day was officially signed into effect, making it a federally recognized holiday.
To honor, celebrate, and recognize Native American cultures, here's a list of titles written by Indigenous authors, all available in the Mesa County Libraries catalog (book descriptions taken from catalog listings):
When the Light of the World was Subdued, Our Songs Came Through: A Norton Anthology of Native Nations Poetry by Joy Harjo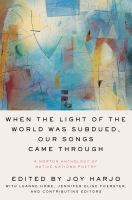 United States Poet Laureate Joy Harjo gathers the work of more than 160 poets, representing nearly 100 Indigenous nations, into the first historically comprehensive Native poetry anthology. This landmark anthology celebrates the Indigenous peoples of North America, the first poets of this country, whose literary traditions stretch back centuries. Opening with a blessing from Pulitzer Prize winner N. Scott Momaday, the book contains powerful introductions from contributing editors who represent the five geographically organized sections. Each section begins with a poem from traditional oral literatures and closes with emerging poets, ranging from Eleazar, a seventeenth-century Native student at Harvard, to Jake Skeets, a young Diné poet born in 1991, and including renowned writers such as Luci Tapahanso, Natalie Diaz, Layli Long Soldier, and Ray Young Bear.
A Day with Yayah by Nicola Campbell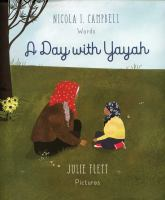 On an outing in Nicola Valley, British Columbia, a Native American family forages for herbs and mushrooms while the grandmother passes down her language and knowledge to her young grandchildren. Includes glossary.
Firekeeper's Daughter by Angeline Boulley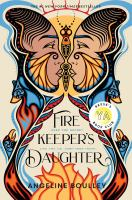 Daunis Fontaine has never quite fit in, either in her hometown or on the nearby Ojibwe reservation. She dreams of college, but when her family is struck by tragedy she puts her future on hold to care for her fragile mother. The only bright spot is meeting Jamie, a new recruit on her brother Levi's hockey team. When Daunis witnesses a shocking murder, she reluctantly agrees to go undercover, drawing on her knowledge of chemistry and Ojibwe traditional medicine to track down the source of a new drug. How far will she go to protect her community, if it threatens to tear apart the only world she's ever known?
Earth Keeper: Reflections on the American Land by Scott N. Momaday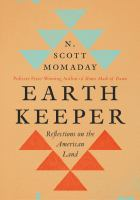 In this collection of essays and poems (most one page in length), Momaday reflects on his Native ground and its influence on his people. A member of the Kiowa tribe who grew up on Navajo, Apache, and Pueblo reservations, he recalls stories of his childhood that have been passed down through generations, stories that reveal a profound and sacred connection to the American landscape and a reverence for the natural world. In doing so, Momaday offers an homage and a warning: the Earth is a sacred place of wonder and beauty; a source of strength and healing that must be protected before it's too late. We must all be keepers of the Earth.
Ceremony by Leslie Marmon Silko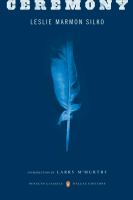 Almost forty years since its original publication, Ceremony remains one of the most profound and moving works of Native American literature -a novel that is itself a ceremony of healing. Masterfully written, filled with the somber majesty of Pueblo myth, Ceremony is a work of enduring power.
Code Talker: A Novel about the Navajo Marines of World War Two by Joseph Bruchac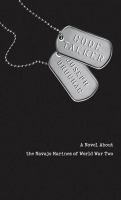 After being taught in a boarding school run by whites that Navajo is a useless language, Ned Begay and other Navajo men are recruited by the Marines to become Code Talkers, sending messages during World War II in their native tongue.
We Are Water Protectors by Carole Lindstrom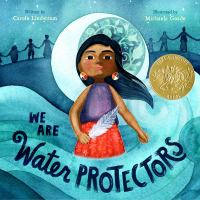 Inspired by the many Indigenous-led movements across North America, We Are Water Protectors issues an urgent rallying cry to safeguard the Earth's water from harm and corruption – a bold and lyrical picture book written by Carole Lindstrom and vibrantly illustrated by Michaela Goade. Water is the first medicine. It affects and connects us all. When a black snake threatens to destroy the Earth and poison her people's water, one young water protector takes a stand to defend Earth's most sacred resource.
Split Tooth by Tanya Tagaq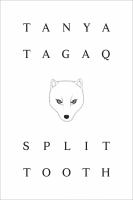 Fact can be as strange as fiction. It can also be as dark, as violent, as rapturous. In the end, there may be no difference between them. A girl grows up in Nunavut in the 1970s. She knows joy, and friendship, and parents' love. She knows boredom, and listlessness, and bullying. She knows the tedium of the everyday world, and the raw, amoral power of the ice and sky, the seductive energy of the animal world. She knows the ravages of alcohol, and violence at the hands of those she should be able to trust. She sees the spirits that surround her, and the immense power that dwarfs all of us. When she becomes pregnant, she must navigate all this. Veering back and forth between the grittiest features of a small arctic town, the electrifying proximity of the world of animals, and ravishing world of myth, Tanya Tagaq explores a world where the distinctions between good and evil, animal and human, victim and transgressor, real and imagined lose their meaning, but the guiding power of love remains.
I Can Make This Promise by Christine Day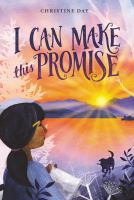 Edie has always known that she is half Native American. She also knows that her mom was adopted by a white couple and has no connection to her birth family. So even though Edie is curious to learn about her heritage, she realizes her mom doesn't have any answers. That is, until the summer day when she and her friends discover a box hidden in the attic, full of old photos of a woman who looks just like Edie and letters signed "Love, Edith." Suddenly, Edie has a flurry of new questions about this woman who shares her name. Could she belong to the Native family that Edie never knew about? But if her mom and dad have kept this secret from her all her life, how can she trust them to tell her the truth now? In this poignant and powerful novel, debut author Christine Day tells the story of a girl grappling with her family's complicated story – and figuring out how to tell her own.
Five Little Indians by Michelle Good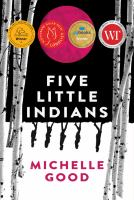 Taken from their families when they are very small and sent to a remote, church-run residential school, Kenny, Lucy, Clara, Howie and Maisie are barely out of childhood when they are finally released after years of detention. Alone and without any skills, support or families, the teens find their way to the seedy and foreign world of Downtown Eastside Vancouver, where they cling together, striving to find a place of safety and belonging in a world that doesn't want them. The paths of the five friends cross and crisscross over the decades as they struggle to overcome, or at least forget, the trauma they endured during their years at the Mission.
Moccasin Square Garden by Richard Van Camp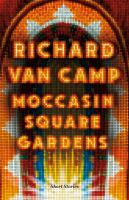 The characters of Moccasin Square Gardens inhabit Denendeh, the land of the people north of the sixtieth parallel. These stories are filled with in-laws, outlaws and common-laws. Get ready for illegal wrestling moves ("The Camel Clutch"), pinky promises, a doctored casino, extraterrestrials or "Sky People," love, lust and prayers for peace. While this is Van Camp's most hilarious short story collection, it's also haunted by the lurking presence of the Wheetago, human-devouring monsters of legend that have returned due to global warming and the greed of humanity. The stories in Moccasin Square Gardens show that medicine power always comes with a price. To counteract this darkness, Van Camp weaves a funny and loving portrayal of the Tłı̨chǫ Dene and other communities of the North, drawing from oral history techniques to perfectly capture the character and texture of everyday small-town life.
The Heartbeat of Wounded Knee: Native America from 1890 to the Present by David Treur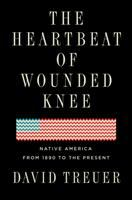 The received idea of Native American history – as promulgated by books like Dee Brown's 1970 mega- bestselling Bury My Heart at Wounded Knee – has been that American Indian history essentially ended with the 1890 massacre at Wounded Knee. Not only did one hundred fifty Sioux die at the hands of the U. S. Cavalry, but Native civilization did as well. Growing up Ojibwe on a reservation in Minnesota, training as an anthropologist, and researching Native life past and present for his nonfiction and novels, David Treuer has uncovered a different narrative. Because they did not disappear – and not despite but rather because of their intense struggles to preserve their language, their traditions, their families, and their very existence – the story of American Indians since the end of the nineteenth century to the present is one of unprecedented resourcefulness and reinvention. Treuer melds history with reportage and memoir. Tracing the tribes' distinctive cultures from first contact, he explores how the depredations of each era spawned new modes of survival.
The Marrow Thieves by Cherie Dimaline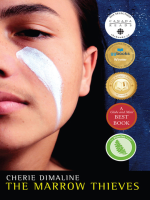 In a future world ravaged by global warming, people have lost the ability to dream, and the dreamlessness has led to widespread madness. The only people still able to dream are North America's Indigenous population – and it is their marrow that holds the cure for the rest of the world. But getting the marrow – and dreams – means death for the unwilling donors. Driven to flight, a 15-year-old and his companions struggle for survival, attempt to reunite with loved ones, and take refuge from the "recruiters" who seek them out to bring them to the marrow-stealing "factories".
*Blog feature image source: "Dignity" sculpture in Chamberlain, South Dakota.  Photo taken by Michele Hickey.