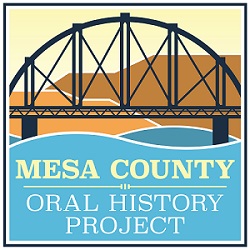 In 1981, coinciding with Grand Junction's centennial celebration, the Mesa County Oral History Project (MCOHP) produced forty-eight radio plays about local history. Over forty-eight weeks, these plays aired on radio stations KSTR, KREX-AM, KREX-FM, and KMSA, with the last play broadcasting on August 21, 1982. Now, the Radio History Theater plays have been digitized and made available for listening in the Mesa County Libraries 970West Digital Collection.
The Museums of Western Colorado and Mesa County Libraries spearheaded the effort to produce radio plays based on the many interviews with pioneers and locals that had been conducted by the MCOHP since 1975. Volunteers from the Mesa County Historical Society and the community acted in the plays, and/or wrote them. The plays were part of a broader community celebration that included nightly community history presentations at Stocker Stadium (attended by the author of this blog as a child because his father played the part of John Otto).
The plays combine dramatizations with soundbites from oral history interviews to convey aspects of life in the past. Titles include "Staayer Trek," about an immigrant's experience in Mesa County, "Cattle and Sheep Wars," "Harold Bryant: Western Slope Artist," about the prominent painter, "Early Day Experiences of a Student Nurse," "Aces and Eights," about the murder of Biltmore gambling hall owner J.W. "Big Kid" Eames, "Teller Institute," about the Teller Indian School, and many more.
Give a listen to these old-timey radio plays and commemorate Grand Junction's 140th anniversary. Or find out more about local history from the Mesa County Oral History Project.