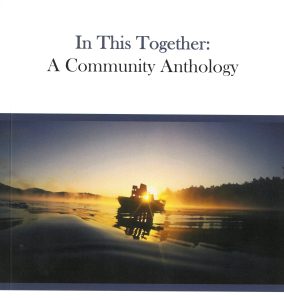 Copies of "In This Together: A Community Anthology," a collection of pandemic-related creative works by Mesa County residents, are now available for purchase or checkout from Mesa County Libraries.
More than 30 local artists, writers, and poets contributed works they created during the pandemic to this collection, which is intended to commemorate this time in the community's history. Sharing different perspectives and methods of self-expression has given the community an artistic time capsule reflecting the pandemic.
The full-color, 98-page paperback book costs $10 (cash or credit card only) and is available at the Central Library, 443 N. 6th St. in downtown Grand Junction. Copies of the book also are available for checkout from any Mesa County Libraries location.
"In This Together: A Community Anthology" was edited by the Western Colorado Writers Forum and Mesa County Libraries. Its production was funded by Friends of Mesa County Libraries and the Western Colorado Community Foundation.