Just because it's the shortest month of the year doesn't mean you have to read any less! The Mesa County Libraries staff has prepared a few great book recommendations for you to explore to help fill the brisk days of February. Click on any of the cover images below to be directed to our catalog.
Jordan's Pick:
The Troop by Nick Cutter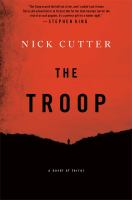 Nick Cutter's The Troop is a psychological horror that shows how isolation and paranoia can make an already terrifying and confusing situation even more tense. The author does a fantastic job, making the reader feel as on edge and uneasy as the characters. Cutter withholds just enough details to make your mind race with assumptions and fill you with anticipation.
 I recommend this book because it creeped me out and genuinely sent chills down my spine. I also recommend reading it without reading the book blurb – it just adds to the reading experience.
Reilly's Pick:
Her Hidden Genius by Marie Benedict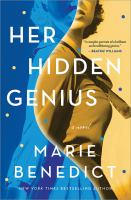 The year is 1952, and Dr. Rosalind Franklin has just discovered the double helix structure of DNA. After years of being undermined, eating lunch alone while peers dine at a local pub, and hearing whispers behind her back, Dr. Franklin is finally ready to step out of her male colleagues' shadows. But just as she has been her entire life, her discovery is overlooked.
Marie Benedict sets the scene of this historical fiction novel in the streets of post-war Paris, France. While many British women had been doing agricultural work in the Women's Land Army during WWII, Dr. Franklin had been using her skills as a scientist to help serve in the war. As one of the first female scientists of her time, she is used to alienation. Nevertheless, the undermining of her pivotal role in DNA's breakthrough molecular finding is something she never expected.
Her Hidden Genius pulls a brilliant woman out of the shadows and into the sunlight. It calls attention to sexism in science, and finally pays Dr. Franklin her dues. Not to mention, it provides its readers with a protagonist that we can all relate to from time to time – someone whose passions make them feel different from everybody else. And just as Dr. Franklin allowed herself to stand out in a crowd for what she loved, so should we. Who knows, maybe one of us will make the next advancement in humankind.
Monica's Pick:
Seven Days in June by Tia Williams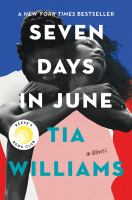 Do you believe in second chances? I am a bit of a skeptic; I mean, things didn't work out the first time for a reason, but Eva and Shane made me a believer (even if only in a book). 
Eva and Shane met in high school and got wrapped up in each other, to say the least. Attracted to being understood fully without judgement, they spend seven days together. But something happened all those years ago, and they don't speak again until June twenty years later. Through glimpses of the past and present, we get to learn who Shane and Eva are as they discover themselves. They, like us all, are shaped by the past for better and worse. Are they still dangerous for each other after all these years, or do they need each other to truly be who they are?
Michele H.'s Pick:
Crying in H Mart by Michelle Zauner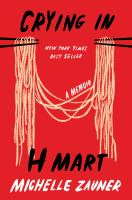 From the delicious, vivid descriptions of food to her heartfelt confessions of grief, I found this book to be a satisfying read from start to finish.
Michelle Zauner is the Korean-American lead singer of the band Japanese Breakfast (music available on Hoopla, free with your library card!), and I was excited to find out I love her writing as much as her music.  From this memoir we learn details of her childhood, specifically time spent in Seoul, South Korea, where she and her mother were born.  Her relationship with the country and its food were my favorites element of her writing.  Although she grew up in Portland, Oregon, Zauner and her mother return to Seoul many times during her childhood where she discovers the food does not just feed the stomach – it feeds the relationship between family and self.  As her mother begins battling cancer and Zauner finds herself in a painstakingly difficult caretaker role,  her heightened reflections towards her Korean identity brings forth important connection, comfort and self-realization.