For April's Staff Picks, we're offering a novel rife with magical realism, a look into the works of a joyous children's author, a trip into the incredible landscape of Bear's Ears National Monument, and a suspenseful fiction read sure to hold your attention.
Click on any of the images below to be transported to Mesa County Libraries catalog.
Brevin's Pick:
Kafka by the Shore by Haruki Murakami
Haruki Murakami's Kafka by the Shore almost defies explanation. This was the first novel by Murakami that I read, and I instantly fell in love with it. It constantly had me wondering, "What in the world am I reading and what is going on?" but at the same time, it was pulling me back for more. I couldn't put it down! 
The story rotates between two narratives in each chapter. In one storyline, we follow the coming of age story of Kafka Tamura, as he runs away from home, hoping to find his mother and his sister. It clearly draws directly from the Oedipus myth, and our protagonist is aware – he runs away from this prophecy during his self-exploration journey. The other storyline is about an aging man with mental scars from childhood. He speaks with cats and is inexplicably drawn to Kafka and his story without either knowing of the connection.
This book is an epic journey that is confounding but exciting. It is filled with solitude, friendship, spirits that travel through time and switch bodies, raining fish, and more questions than answers. Kafka by the Shore is a storm that pulls you in without hope of coming out on your own, and you certainly won't be the same when it's over.
Julia's Pick: 
Various titles by author Mo Willems
Why do I love children's author Mo Willems? Let me count the ways:
Mo began his career as a writer and animator on Sesame Street, where he earned six Emmy Awards. He has since earned many, many awards, but let's get on to the books…

His books are silly. Plain silly – with a purpose.

The purpose: Kids may see themselves in the various characters. My personal favorites are Elephant and Piggie. Do I see myself in them? Why, yes, yes I do.

The characters are happy, sad, frustrated, and even angry. These are big feelings and we all have them. They are learning to adapt, communicate, listen, and so much more. 

The illustrations: Mo also illustrates his books. Bonus points: The illustrations are simple and adorable. Slow down and look at the characters' expressions. 

The text: One sentence per page, usually. Or one expression. Or one sound. And the size and color of the text vary to give the reader additional clues as to how the characters are feeling. In Family Story Time we tend to read the BIG print in BIG voices (yes, in the library)! Giggles for everyone. 
The variety: Mo Willems has characters, situations, and books for all ages. The Unlimited Squirrel Series are great beginner chapter books. There are new words to learn, fun and educational stories, and facts and jokes included. His books are available in English and Spanish.
Now – go read and have FUN! (Hope you said that in a BIG voice!)
Melissa's Picks:
The Last Thing He Told Me by Laura Dave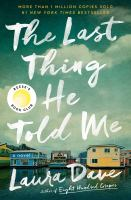 Hannah is wood turner by trade and a newlywed to Owen.  They, along with Owen's daughter, Bailey, all live together in Sausalito in a floating house.  Besides the fragile relationship between stepmother and stepdaughter, life is good until Hannah  receives a note passed from her husband through a messenger.  The note simply reads, "Protect her."  The note can only refer to Bailey, who later brings home a bag full of large bills that her father left for her at school before disappearing when news spreads that his employer and friend is caught in a fraud scandal.  Hannah and Bailey embark on a quest to find Owen and uncover the truth about who he really is.  The story held me captivated, wondering who were the heroes and who were the villains up until the end.

Lion (DVD)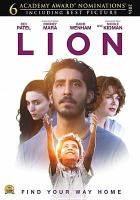 Based on a true story (as all the best movies are in my opinion), Lion is the story of Saroo, a young boy in India who lives with his mother, sister, and brother in a hut.  While his mother is out working, Saroo convinces his older brother to take him to work with him.  After falling asleep on a train station bench and waking up alone, five-year-old Saroo wanders around and climbs onto an empty train and finds himself in Kolkata three days later.  Unable to read or speak the language, he wanders and is helped along the way by some well-meaning (others not) folks along the way, and eventually ends up in Australia, adopted by an endearing couple.  Lion shows the rest of his story, how as an adult he begins to remember things from his childhood and desires to find his family in India.  It's a powerful and emotional story of family, loss, survival, and determination.
(Also available to stream for free on Kanopy with your library card!)
Ike's Pick:
Behind the Bear's Ears: Exploring the Culture and Natural Histories of a Cultural Landscape by R.E. Burrillo
R.E. Burrillo's Behind the Bears Ears: Exploring the Culture and Natural Histories of a Cultural Landscape does an excellent job of informing the reader about the greater Four Corners region that is relevant on several levels including the prehistoric, historic, scientific, and sociological. For readers who have visited Bears Ears National Monument and who have not, it allows for a visit to the place on paper and is informative about several important current issues. Burrillo's reference to one of my favorite rappers, Aesop Rock, was also a pleasant and surprising inclusion.