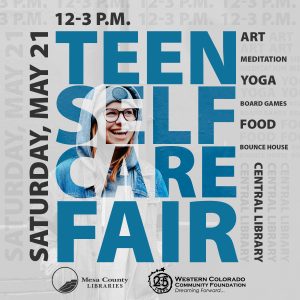 A Teen Self-Care Fair showcasing free and low-cost options to support the physical and mental well-being of teens is scheduled from noon to 3 p.m. Saturday, May 21, 2022, at the Mesa County Libraries Central Library, 443 N. 6th St. in downtown Grand Junction. Admission to the fair is free.
A variety of activities such as a bounce house, art, board games, and yoga and meditation classes will be available at no charge. The fair will highlight traditional mental health services such as therapy, as well as activities that connect teens with their communities. For example, Board Fox Games will set up a selection of board games in the Central Library teen area, and Half Moon Yoga will host a free, 30-minute yoga class for teens. Mind Springs will host a 30-minute talk on resiliency for teens.
Teens who attend the Self-Care Fair will have the opportunity to earn free food simply by visiting resource tables or classes and being awarded a food ticket worth $7, which can then be redeemed at onsite food vendors the day of the fair.
A variety of local nonprofits and businesses are partners or participants in the Teen Self-Care Fair, including: The Art Center, Mesa County Public Health, Mesa County Workforce Center, Hilltop, Mind Springs, Half Moon Yoga, Karis Inc., Board Fox Games, The Novel Cup, BAM! Business Art Mentorship for Youth, Student-Led Equity Council at District 51, Loving Beyond Understanding, Identity Insights Counseling, Charisma Chorus, Ariel Clinical Services, and Community Food Bank. The event is made possible by grant funding through Western Colorado Community Foundation.