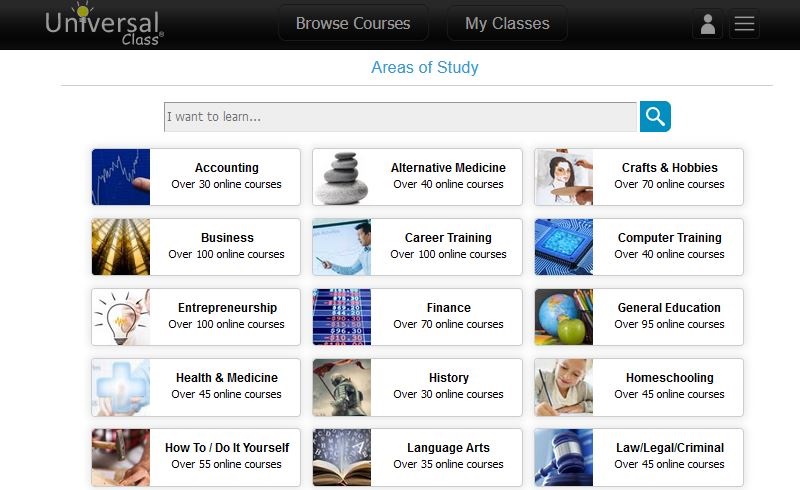 Did you know that Mesa County Libraries patrons have access to over 600 free online classes?
If not, then you should definitely look into Universal Class, a free eResource offering tutorials, lessons, and classes on a diverse array of topics. There's something for everyone on Universal Class, from history lessons, art/hobby tutorials, cooking classes, test preparation, career training, and so much more. Want to learn about Microsoft Excel, microbiology, cake decoration, gardening, or the Revolutionary War? Universal Class has you covered on all fronts.
What's especially cool about Universal Class is that each course is designed and led by professional instructors who record lessons, prepare assignments, and respond quickly to questions. Courses are self-paced and include videos, lessons, quizzes, tests, and discussion boards. Just want the lessons without the homework? You can choose to sign up for a Video-Only Course or a Certificate Course when joining a class. Video-Only will grant you access to each lesson without needing to complete any of the assignments, whereas Certificate Courses will provide Continuing Education Units (CEUs) and a certificate upon completion of each assignment. If you're indecisive, you can switch between either option as you please.
To sign up for Universal Class, just follow this link or visit mesacountylibraries.org, click our eResources A-Z, and scroll down to Universal Class. From there, you can use your Mesa County Libraries card to sign up for an account and browse hundreds of courses. Please note that this eResource is not available to patrons using a digital access card. Universal Class courses do not count for college credit.
Have you signed up for any courses in Universal Class? Let us know what you've learned in the comments.