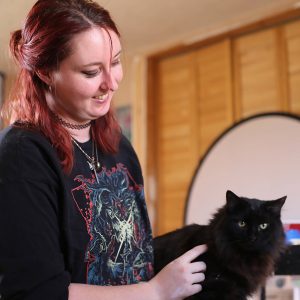 Ceramic artist Hannah Martin is the new Mesa County Libraries Artist in Residence.
Martin, a Grand Junction resident, has scheduled regular public Meet & Greets each Tuesday through Aug. 1 and will lead several programs for adults, teens, and children during her residency.
Martin began her art career after watching a behind-the-scenes documentary of the film "Lord of the Rings." She learned about Weta Workshop, a creative concept design and manufacturing company, and all of the artwork they included in the movies. That work served as an inspiration to Martin.
Martin started working with clay in 2014, and in 2019 she received her Bachelor's in Fine Arts degree from Colorado Mesa University with a concentration in ceramics, graduating with Honors Art and Design under Professor KyoungHwa Oh. Since then, she has made artwork for the 2022 Mesa County Libraries Comic Con and sells her work at local art markets. Martin's work is about how we explore nostalgia and language through the lens of pop culture and whimsy.
"Books, graphic novels, web comics, cartoons, movies, memes, and video games are all different forms of pop culture that I learned about and grew up with," Martin says. "It is through this lens that I connect to the world around me. I chose to work with clay because I always wanted to work in the dirt as a kid. I imagined digging up old artifacts because of movies like 'Jurassic Park,' 'Indiana Jones,' 'Star Wars,' and 'Lord of the Rings.' Ceramics are cool, and I get to live out my dream by creating the artifacts myself. These artifacts – ceramics – now house the nostalgia of films, pop culture, and puns contributing to the ever-evolving language we use."
Public programs offered by Martin during her residency are:
Meet & Greet – 2:30-4:30 p.m. each Tuesday through Aug. 1 at the Mesa County Libraries 970West Studio, 502 Ouray Ave. Stop by, watch the artist work, and ask questions.
Make a Pinch Pot (open to children and families) – 6 p.m. Thursday, May 11, at the Central Library Children's Area, 443 N. 6th St. Children and families can play with clay and learn the technique of making a pinch pot.
Intro to Clay Surface Design (open to adults and teens) – Learn and practice Sgraffito and Mishima clay surface design techniques using greenware (fragile, unfired ceramic) bowls to be donated to the Empty Bowls Project in October. No experience is necessary. Supplies are included. Space is limited, and registration is required via the online Event Calendar at mesacountylibraries.org or by calling 970-243-4442.
Sketchbook Keeping (open to adults and teens) – 5:30 p.m. Thursday, July 13, at the Central Library, 443 N. 6th St. Owning a sketchbook is easy, but starting or filling it can be intimidating! Work through artist's block and practice simple exercises designed to help promote creative habits to fill your sketchbook. No drawing experience is necessary. Supplies are included, but participants are welcome to bring their own.
The Mesa County Libraries Artist in Residence program is supported by the Mesa County Libraries Foundation.