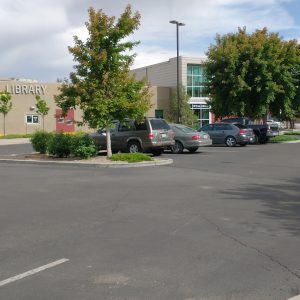 Parking lots around the Mesa County Libraries Central Library in downtown Grand Junction will be closed to all use from Saturday evening, June 17, through early morning Tuesday, June 20, for an extensive resurfacing project.
The closure is necessary for cleaning, sealing, and restriping of the parking lots.
Both the east and west parking lots at the Central Library, 443 N. 6th St., will be closed from 5 p.m. Saturday, June 17, through 7 a.m. Tuesday, June 20. All public traffic will be prohibited during that time, including foot traffic, scooter traffic, bicycle traffic, and vehicle traffic.
The Central Library will be open regular hours (9 a.m.-5 p.m.) Saturday, June 17, and the parking lots will close when the library closes. All vehicles must be moved by that time. Any vehicles left in the lots after 5 p.m. June 17 will be towed at owner's expense so that work may progress.
The Central Library's Wi-Fi signal may be available from streets around the library during the lot closure. Wi-Fi users should avoid the library's parking lots and use the signal from sidewalks and surrounding streets only.
The drive-through book drop at the Central Library also will be closed during the project. Book drops at all other Mesa County Libraries locations will remain open and available for use during the weekend.
Both parking lots and the drive-through book drop are expected to return to normal use at 7 a.m. Tuesday, June 20.
The project is scheduled during a holiday weekend to minimize inconvenience to library patrons. Mesa County Libraries locations are closed Monday, June 19, for the Juneteenth holiday.