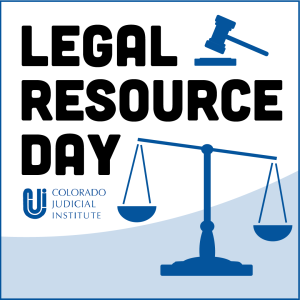 Attend presentations and bring your civil legal questions to Legal Resource Day, organized by the Mesa County Combined Court/21st Judicial District and co-hosted by Mesa County Libraries.
There is no charge to attend this event, which happens 9:30 a.m.-5 p.m. Friday, Oct. 27, at the Central Library, 443 N. 6th St. in downtown Grand Junction. The event features free Ask An Attorney sessions, presentations, and vendors with information about resources for legal issues involving county court, civil, family matters and probate. Ask An Attorney sessions are free on a first-come, first-served basis. A Spanish-speaking court interpreter will be available from 2-5 p.m.
Seating is limited for presentations.
Presentations:
9:30 a.m. – "Tenants Rights" presented by Colorado Legal Services
11 a.m. – "See You in Court: The Life of a Civil Lawsuit" presented by Our Courts
12:30 p.m. – "Representing Yourself in Court: Domestic and Civil Cases" presented by Colorado Legal Services
2 p.m. – "Introduction to Family Court Facilitation and Motions Commonly Seen in Family Cases" presented by Tina Staake
3:30 p.m. – "I Don't Want to Talk About It: End-of-Life Planning" presented by Stephanie R. Holguin
‌Vendors at Legal Resource Day will include:
Department of Human Services – Child Support Enforcement
CASA of Mesa County
Mesa County Workforce Center
The Arc Mesa County
Organizers of Legal Resource Day send a special thank-you to the Colorado Judicial Institute and the volunteers who make this event possible.