It's been snowing in Mesa County, and I know a certain bunch of locals who associate snow with one thought – POWDERHORN! With the abundance of fresh snow the Grand Mesa has received in the last few weeks, it feels appropriate to share a bit of the area's winter-themed history.  A prior Local History Thursday post goes into some excellent detail about the start of the Grand Mesa ski areas, available to read here.
Before the current Powderhorn Ski Resort opened up on the Mesa in 1966, there existed Old Powderhorn, also known as Mesa Creek Ski Area. Old Powderhorn existed from 1940 to 1966 and was founded and opened by a group of snow lovin' locals called the Grand Mesa Ski Club.  The Ski Club spent their days carving some gnar pow (if you are as unfamiliar as I was with ski lingo, here's a helpful site) and helping to keep Old Powderhorn safe and organized by providing volunteer ski patrol and ski lessons.
The Grand Mesa Ski club also focused on fostering other sports throughout the community:
"An organization known as the Grand Mesa Ski Club was organized and incorporated last winter. But the name is somewhat misleading in that skiing is not the only activity to be fostered by the organization. At present efforts are being made to provide a tennis court for the community, with good prospects for the achievement." – Surface Creek Champion, April 24 1941. A section of their bylaws stated that the Ski Club would "promote community sports of all kinds."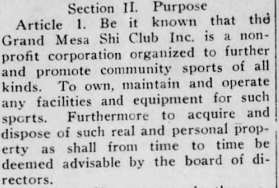 Mesa County Oral History Project interviewee Russell Paige was one of the original members of the Grand Mesa Ski Club who helped cut the trees, clear room for the ski run and place the rope tow motor up on Old Powderhorn.  One particular detail I found interesting from Russell's interview was the slapstick difficulty faced while trying to get transportation up to the ski area before the addition of a paved road:
"…We got the county to keep the roads open and we hired a bus and took busloads of kids up there, but the road curves were so sharp we had to unload everyone out of the bus for the turn, then when the bus got around the turn we could load up again and continue on.  It was quite a job to get up there….the turns were very sharp… It was all dirt road and all the county did was plow the snow off of it for us." 
Imagine the chaotic process of getting a busload of excited children to load on and off the bus, dozens of times, at each curve up the Mesa.
If you're interested in more Colorado ski history, have a look at the following titles available for browsing in the Rashleigh History Room of Mesa County Libraries Central location: