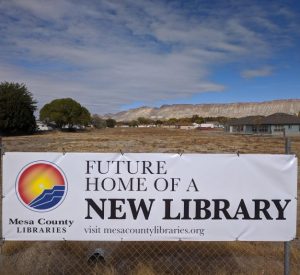 UPDATE SEPTEMBER 1, 2022:
PLANS FOR THE NEW CLIFTON BRANCH PROJECT HAVE CHANGED!
The new Clifton Branch Library will be located at 3270 D 1/2 Road. For current information about the project, please visit this page.
PREVIOUS POST from February 2021:
Responding to public comments, Mesa County Libraries (MCL) revised a conceptual plan for the proposed new Clifton Branch Library to consolidate parking north of the building and to locate the main entrance on the northwest side (please see the accompanying site plan).
The revised site layout is a near-final stage of the project's conceptual design, which is being prepared by students in the University Technical Assistance (UTA) Program of the University of Colorado-Denver. Initial concepts were presented to the public for comment in December 2020, and a number of comments indicated that patrons would like parking to be consolidated in one location, rather than split between north and south ends of the site. 
The proposed new library will be built on an empty lot at 3180 F Road, approximately 0.2 miles east of Mt. Garfield Greenhouse and Nursery. The building will be about 20,000 square feet in size, almost four times larger than the current Clifton Branch. It will contain community meeting rooms, study rooms, outdoor spaces, and resources for patrons of all ages. It also will house offices of the Marmot Library Network, a regional library consortium that provides electronic catalog and technology services to MCL and more than 30 other public and school libraries throughout Colorado.
After December's public comment sessions, library staff and UTA students worked to revise the site plan to address various concerns. One of the largest changes was to consolidate parking north of the building. Vehicles would access the lot from a driveway along the west side of the property connecting to both F Road and Jamison Avenue. Jamison does not currently cross the property but is expected to be completed so that it connects neighborhoods on both sides of the library site.
Library officials believe that consolidating library parking north of the building will allow better patron access to meeting rooms and the main library entrance. 
UTA students are refining the conceptual design, which upon completion will be turned over to a professional architect for refinement into a final set of plans for the new library building.
The Clifton Branch Project is steadily moving forward. The library expects to hire an owner's representative soon to help coordinate the project and also will hire an architect and contractor this year. Groundbreaking is planned for spring 2022.
A firm construction cost has not yet been determined, but a rough early estimate is about $8 million. The project will be funded by a combination of library district funds and money to be raised by the Mesa County Libraries Foundation. A capital campaign to raise funds is planned to begin later this year.
More information about the project is available here.