Women's History Month was celebrated in March, but it's never too late to honor the life of a hardworking pioneer woman of Mesa County's past. 
As heard during an interview with the Mesa County Oral History Project, Mary Belle (Powers) Plaisted had a strong, poetic voice that paints you a distinct picture of what western Colorado was like for a woman in the early 1900s. She raised four children essentially on her own, made it through the Dust Bowl with no government assistance, and grew one of the finest gardens in the Grand Valley, helping her family to live a fully self-reliant lifestyle while feeding her neighbors in the community as well. 
The Move Out to Colorado
Mary was born in 1896 and moved to Mesa County from Kansas as a young girl in 1904.  One of her most difficult childhood memories was burying her father on that "old, dry, dusty Kansas hillside" when he perished. During their move to Colorado, she and her mother took the train across the country side.  She recalled that on the way there, Kansas had to take "one last swipe at us." The train broke down in a winter storm, leaving many cold and hungry while waiting for assistance.  Mary and her mother befriended some Russians on the train who were coming to the Grand Valley to work the beet harvest.  Although most on the train were freezing, none of travelers from Russia were cold in their high felt boots, three or four petticoats, and woolen shawls and blankets that were custom in their homeland. Mary decided to share some oranges she found on the train with the Russian workers, and found it funny to discover they tried to eat them rind and all, having never tried an orange before.  She recalled making the same mistake as a child.
Family Life
Her mother, Maria Louisa (Hoover) Powers supported her family by professionally training horses during Mary's youth. In 1911, Mary was married to second cousin Charles Kessinger at age 15, having three sons and one daughter with him before the marriage crumbled.  One of her sons was carried through her pregnancy during the 1918 Spanish Flu epidemic.  Charles eventually left the family and Mary began raising all four children herself, living proudly but with difficulty while taking no government assistance during rough times, still managing to put food on the table. She experienced several years of extreme poverty; she often relied on the kindness of neighbors and moved around a great deal.  
In 1928 while her boys were in high school, she met Thomas C. Peirce.  They were a perfect match from the start – Thomas wanted a family and owned a ranch, while Mary wanted a ranch and had a family. They decided to "pool their interests legally" and moved in together on some land in Loma in 1929.  
The Loma Ranch
The land was a sort of paradise for Mary, and she tended it well.  Her gardens were highly profitable and she had a knack for raising a great bunch of chickens. She sold eggs and homemade butter to markets in Fruita and Loma, and raised beans and corn, cattle and hogs.  Mary also made all her own clothes for herself, her sons and her husband. 
When the Dust Bowl hit the east side of Colorado, many people migrated to the Valley and the ranches became very full. People who once snubbed Mary while she was scrubbing floors, nannying, and homesteading ended up begging her for chickens and food or labor pay on the ranch.  
Mary's property had a swimming hole and the neighbors met on there often.  Her husband was a blacksmith, and had enough knowledge to help the community treat and tend to their horses.  They had one of the most beautiful Hollyhock gardens in the area and townsfolk would make special trips to her house just to see the flowers in bloom. 
Early Settler-Style Cooking
One of my personal favorite parts of Mary's interview is hearing about all the fantastic foods she served fresh from the ranch.  She was a master cook and often served large work crews – it impressed those around her that she never had to go to town for food because her little farm helped her become so self-reliant. She made pumpkin pies with green pumpkin – Cooked it double crust with leftover cream, spices, and sugar. A typical day might include Mary making green tomato preserves on pancakes for breakfast, chicken broth at lunch, stewed chicken with noodles and dumplings in the evenings.  Sometimes she would steam a plucked and butchered hen, drop it in a mixture of egg and corn flakes, bake or fry the meat in fat, and soon she would have heaping helpings full of delicious fried chicken!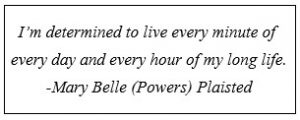 Later Years
After her relationship with Thomas Pierce ended and her three sons all grown up and in the Navy, Mary went on to start the next chapter of her life.  She married the owner of the local Mountain View Seed Company, Neal Plaisted, in 1940.  She lost the Loma ranch, but never her determined, hardworking spirit. Before her retirement, Mary owned and operated a boarding house in Grand Junction and after a lengthy illness, she passed away at age 91 at the Mesa Manor Nursing Home.
Mary has a great deal of knowledge about the local fruit harvest, the Uranium Boom years, old government programs used during tough years, and historical events that occurred throughout the Grand Valley, including the horrifying 1943 munition incident on the railroad that had the community fearing Grand Junction was being bombed and attacked.  For more information on the early settlers of our county's past, check out the Mesa County Oral History Project.