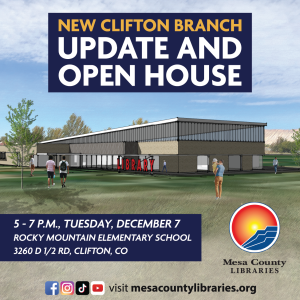 An open house to present plans and gather community feedback about the proposed new Mesa County Libraries Clifton Branch is scheduled from 5-7 p.m. Tuesday, Dec. 7, at Rocky Mountain Elementary School, 3260 D 1/2 Road in Clifton, in the school's library/media center.
As envisioned, the new library would be part of a Mesa County community center campus planned for construction next to the school. Mesa County Libraries have developed plans for the library that could move forward if an agreement on the site is finalized with the county.
At the open house, visitors can view library floor plans and amenities, share thoughts and ideas about Clifton's identity, and ask questions. Spanish-speaking staff will be available to answer questions. Mesa County staff will also be present to answer questions about the community center campus.
For those attending the open house, access to the school's library/media center will be in the front of the building near the parking lot (but not the main doors). Signs and staff will be present to direct attendees to the correct meeting area.
More information about the project is available at mesacountylibraries.org/aboutus/supportus/clifton-branch-project