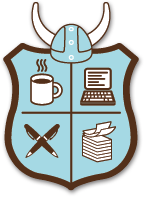 If you haven't heard, November is National Novel Writing Month and Grand Junction is a great place to get connected to the NaNoWriMo community. The goal is to write a 50,000 word novel by the end of November; the challenge is to stick with it! Try these 10 tips for NaNoWriMo writers to get you on track and come to the library to participate in any or all of our write ins.
Teens will kick off the month with a writing discussion and party TODAY, November 1st at 3:30 p.m. Start your epic NaNoWriMo journey with inspiration from a panel of published YA authors! Local writers Renee Collins, James Van Pelt, and Shannon Maynard will answer your questions about their experiences and hold a book signing. Continue crafting your novel on Mondays through November at 3:30 p.m. in the Mesa Room at the Central library.
Adults will meet on Sundays throughout November from 1:30-4:30 p.m. Spend time adding to your goal for the month in addition to write-offs, prompts, block breakers, and other fun adventures to move you along in your journey. Leave your inner editor at home and bring along your muse!