Relax, kick back, and treat yourself to one of August's recommended reads, reviewed by your friendly library staff! Click on any of the images below to be directed to the Mesa County Libraries catalog.
Trevor's Pick
Mary Wears What She Wants by Keith Negley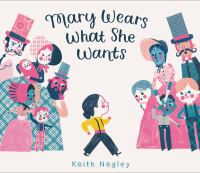 Can you believe that there was once a time when a woman could be arrested for wearing pants rather than a dress?! This delightful picture book illustrated those times that Mary Edwards Walker grew up in. She wanted to be comfortable and that meant wearing pants, darnit! But many Americans in the mid-1800s were not OK with that. She did it anyway. Walker was a true trailblazer and this book can be an inspiration for kids and grownups alike who want to do things their own way.
Stacy's Pick
Insignificant Events in the Life of a Cactus by Dusti Bowling 
(Also available as an eBook or eAudiobook)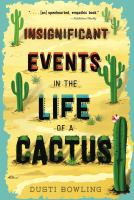 Thirteen year old Aven Green, who was born without arms, has a pretty great life. She has good friends, a school where everyone is used to the unique way she does things, and supportive parents who constantly remind her there's nothing she can't do. But all this changes when her parents take new jobs in Arizona and she has to navigate the challenges of her disability in an unfamiliar place surrounded by new people. On top of all this, there's something not quite right about the amusement park her parents have been hired to run, and she's determined to figure out why.
This book is recommended for 9-12 year olds, but older readers might appreciate the book's humor and message of acceptance as well. Kids will be entertained by Aven's hilarious and occasionally gross stories, but they'll also be inspired by her determination, fierce loyalty to her new friends, and confidence: "I never imagined I would save the Old West, perform for an audience in the desert, and solve a mystery. You'd be surprised at all I'm capable of, though. Even without arms."
Denise's Pick
Vegan Comfort Cooking by Melanie McDonald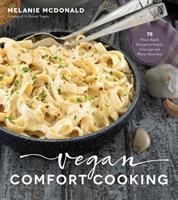 There's No Such Thing As Too Much Garlic Bread (p 125).
If you are like me, and that statement sounds like a recipe for a good time, then let's be friends! 
Now, as your friend, I gotta tell you about this great book I just brought home from the library…for the third time. Vegan Comfort Cooking by Melanie McDonald is all that and a plate of Down 'n' Dirty Taco Fries (p 133). Before you plug in GPS coordinates for "salami and bacon near me," let me say that this book is definitely not a collection of "lite" foods, salads, or quirky chia seed puddings. It is loaded with hearty, satisfying favorites that are packed with nutrition and flavor.
Honestly, this is kind of a relief because even though it's a hundred degrees outside, I still catch myself drooling for a healthy helping of Soul-Warming Stew And Dumplings (p 61-2). Did I mention there are tasty, full-color, full-page photographs for every single recipe? I can personally vouch for a few recipes, including the Speedy Mushroom Stroganoff (p 58), the "Ale, Yeah" Rosemary Onion Beer Bread (p 122), and the Sinfully Sticky Toffee Pudding (p 142), which all somehow ended up looking like the picture in the book, and they all ended up tasting incredible!
This book is also a great catch for anyone who prefers savory over sweet. While there are certainly some desserts baked into the last chapter, McDonald has thrown in some savory twists too, such as Crispy Cornmeal Waffles with Maple Roasted Cherry Tomatoes (p 50), or accentuated combos like Zesty Orange Olive-Oil Muffins (p 42). As my friend, it would be really super duper nice of you to make some of those, and bring me one…or two!
Finally, if you have anyone in your life (we won't name names) who screams for McDonalds anytime they are remotely near golden arches, then those people might be ready for supervised baking! Next time they ask, "Can we have McDonalds?" say, "Absolutely! Here's Melanie McDonald's Vegan Comfort Cooking," and together you can stir up some delicious Cauli-Power Burgers (p 102) followed by an "I Only Have Pies For You" Sweet Potato Pie (p 151).