January 9- April 24, 2017: Emmi Hall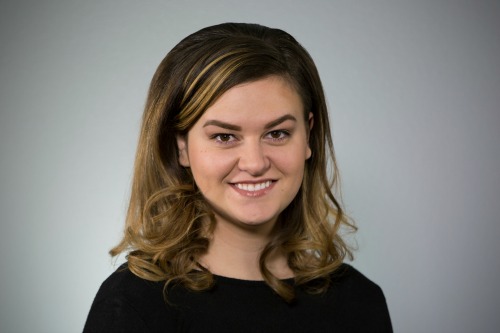 Emmi Hall recently graduated from CMU with a Bachelor of Fine Arts in Graphic Design. Her passions include education and art with the belief that artistic expression is a necessity of living. In order to survive there must be growth. In order to grow there must be education. In order to educate ourselves we must also be able to teach others. Emmi is a strong believer in the expansion of mastery and skill through artistic expression. Her passion for art flows from her yearning to share knowledge: learn all you can to share all you can.
Currently she works as a freelance graphic designer with work ranging from illustrating children's books to advertising project management.
Emmi will have regular open studio hours from 9-12 every Monday (except 1/16 and 2/20 for library holiday closures).
Check our event calendar for a list of library programs Emmi will offer during her residency.
---
About the Artist in Residence (AIR) Program and Application
Mesa County Libraries is providing studio space in the 970West Studio through the Artist In Residence Program. Artists will have a designated work space and are encouraged to use this three-month residency as an opportunity for growth and development while engaging with the community.
The goal of the Artist In Residence program is to further Mesa County Libraries' mission to enrich lives and build community through opportunities to learn, discover, create, and connect. Artists will have studio space to hone and focus their creative talents while sharing their expertise and skills with the community through scheduled presentations or workshops at the library.
Eligibility
Artists must be residents of Mesa County and have a valid library card. Artists must work in one or more of the following media: drawing, painting, fiber arts, sculpture, photography, video, music, fiction and nonfiction writing, and poetry. Artists working in other mediums are encouraged to apply and will be considered based on functionality of the studio space.
Applicants must be 18 or older and will be required to undergo a background check.
Selection Criteria
● Artistic expression
● Overall community interest
● Historical prominence or significance of the artist's work
● Relevance to library programs
● Ability to teach and conduct workshops or presentations
● Dates of previous artists of similar items or topics
● Special needs, costs, or requests associated with space use or workshops
● Readiness to engage with and benefit from the residency experience
Process
Residencies will be determined by the Art Committee members and additional library staff. All application materials must be submitted by the posted deadline. Work samples will be reviewed based on their technical aspects, and final residency selections will be determined by an interview process.
Artist's Responsibilities
While in the 970West Studio, all Artists in Residence are expected to comply with the library's policies and procedures which are designed to create a safe, comfortable, and welcoming environment for all of our customers. Each artist will be expected to work with library staff to provide at least three library workshops (one per month) during his/her residency. Artists are encouraged to hold regular open studio hours for public interaction. The Artist will allow the library to digitize finished works completed while in residence and document the process by photo and/or video. Representations of the work may be included in the library's online catalog. The library respects all copyright laws and recognizes that intellectual property rights reside with the artist.
For more information or questions, please contact Jessica at 970west@mcpld.org