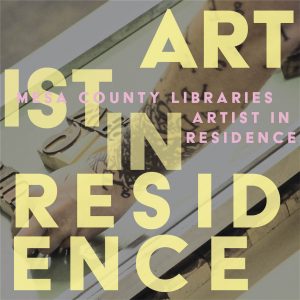 Mesa County Libraries are accepting online applications for openings in the 970West Artist in Residence program for 2021. The application period will be open through Monday, Feb. 15.
The 970West Artist in Residence program is open to artists 18 and older who reside in Mesa County and have a valid library card. Artists in a variety of mediums are considered.
The program will accept two artists in 2021 for terms of approximately 14 weeks each. Selected artists will work with library staff to provide at least three library programs during the residency and must occupy the studio at least six hours per week for community engagement.
Residencies are scheduled for May 24-Aug. 30 and Sept. 13-Dec. 20, 2021.
Artists selected for residencies will receive a $500 stipend from the Mesa County Libraries Foundation and access to the 245-square-foot Artist in Residence space in the 970West Studio.
Full details about eligibility, application requirements, and artist expectations are available on the library website. Applications must be submitted online.
The Mesa County Libraries 970West Studio, located at Fifth Street and Ouray Avenue in Grand Junction, is a public multimedia production studio that gives Mesa County residents a unique opportunity to learn how to record and produce a variety of creative works in digital formats.
The 970West Studio is home to the Artist in Residence program, which gives selected artists the unique opportunity to connect and engage with the community. Selected artists have access to studio space to hone and focus their creative talents while sharing their expertise and skills with the community through scheduled presentations or workshops at the library.
More information about the Mesa County Libraries 970West Artist in Residence program is available here.