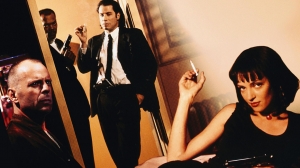 On October 14th, 1994, Quentin Tarantino's groundbreaking, Pulp Fiction, came blasting on to movie screens.  20 years later (and, even after endless copycats), it remains a subversive, jolting, and sublimely entertaining piece of work.
Fiction, with its seamless dialogue, quintessential soundtrack, nonlinear storytelling, and humanized criminals, enraptured audiences and critics alike, cementing Tarantino as both the most inspired and influential filmmaker of the 90s.
Jason Bailey's recent book, Pulp Fiction: The Complete Story of Quentin Tarantino's Masterpiece, details every facet of this modern classic, from its making to its enduring legacy.