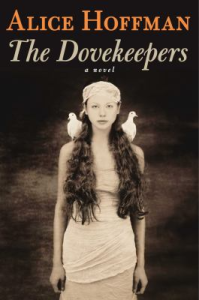 I apologize that I did not think to share this news earlier!
My friend and co-worker, Giselle, let me know a couple of weeks ago that there would be a mini-series based on Alice Hoffman's historical novel, The Dovekeepers. The mini-series is produced by Roma Downey and Mark Burnett.
My apology comes because Part 1 aired last night (CBS, 8-10 p.m.). If you read this in time, you can catch Part 2 tonight (same time, same place). If you want to start at the beginning there is still hope (more information at the end of this post).
Giselle knew I would be interested in the mini-series because she was aware of how thoroughly I enjoyed the book. Jewish literature is one of my favorite genres because of the rich culture, history and language. The Dovekeepers follows four fictional women in the historical fortress city, Masada. Masada sits at the top of a mountain in the Judean desert and was the home to 900 Jews who were able to live and make a last stand against the Roman Empire around 70 C.E. Though some people might find the detail and description too lengthy, most people I know have given the book a positive review. How has the film lived up to the book?
Another library friend and I agree that, so far, the mini-series does a good job at bringing the novel to life. However, I write that with reservation. There were scenes in the program that very closely followed what I imagined from the book, except the colors and light are much brighter than many of the scenes I visualized from the written word. Also, there is the struggle of condensing a 500 page book into a 4-hour film. Unless she is introduced tonight, one of the main characters was cut. Additionally, eliminating some of the rich detail gives much greater focus on the relationships. I feel the genre of the mini-series falls more accurately under Romance in a historical setting rather than Historical Jewish Fiction with elements of romance. Still, because I liked the book so much I plan on watching Part 2.
Currently, CBS has Part 1 available to watch online; I assume Part 2 will be available after it airs. It is also available to watch instantly through Amazon. Or, if you are willing to wait until July, Amazon will have it available on DVD. This morning I requested that the library order a copy for our collection. If you would like to be put on hold for it, visit us in June or July or submit a Suggest a Purchase request and we will add you to the list.
If you are interested in the topic, there are additional library resources about Masada.
Wrapping up: A library patron and I both thought that though the mini-series was good, overall, the second half was slower than the first.