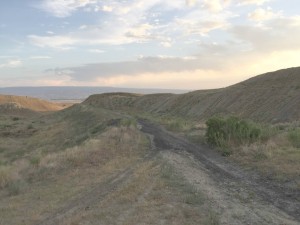 Did you know that a narrow gauge railroad used to travel from the Book Cliffs all the way to 1st Street?
In 1890 an entrepreneur named W.T Carpenter opened the Book Cliff Coal Mine. The Little Book Cliff Railway was built to transport coal from the foot of the Book Cliffs to Grand Junction. The coal mined was used in many of households in Mesa County. At one point in time the Grand Valley Mine also operated in the vicinity.
The railway wound it's way down from the mines and through what is now the runway of the airport. Parts of the line remained as early as the 1970's near Horizon Drive.
Eventually, operation of the mines stopped and the nearby settlement called Carpenter was abandoned. However, the importance of the area in relation to Mesa County history is undeniable.
Several books about the mine and railway can be found at the Central Library, some of which include.
Little Book Cliff Railway by Lyndon J. Lampert and Robert W. McLeod
Tracking Ghost Railroads in Colorado by Robert Ormes