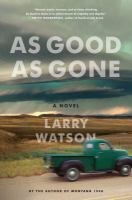 Larry Watson's stunning novel of the Sidey family is set in the turbulent sixties in the prairie town of Gladstone, Montana. Crusty old Calvin lives off the grid outside of town, staying away from anyone who might remember his mix-up with the law. Calvin's son Bill runs the family real estate business.
Despite their precarious father-son relationship, Bill screws up his courage to ask Calvin to stay at the house with daughter Ann and son Will, while Bill and his wife Marjorie head to Missoula for Marjorie's surgery. Calvin arrives with a small suitcase, a pint of Canadian Club whiskey, a box of ammunition, and a Colt .45. He can't help but apply his code-of-the-West justice when one of Bill's renters receives an eviction notice and storms the house with threats, or when Ann is being stalked by an aggressive boyfriend she wants nothing to do with. Even a romantic liaison with a widowed neighbor doesn't soften Calvin. He's a relic who doesn't fit in. He walks out, returning to his solitary life, little realizing the powerful effect he had on those around him.
After numerous awards for his fiction, Watson, who wrote Montana 1948, is sure to win more praises with such memorable characters in the manner of Kent Haruf and Ivan Doig. As Good As Gone will keep you riveted until the end. You can't read a novel any better than this.