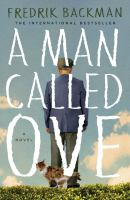 O, Ove, How I'll miss closing my days with you.
In Chapter 1 you tested my patience; I could laugh only because I wasn't the one trying to explain the "computer that is not a computer" to you. In Chapter 2 you were so bitter and severe I almost walked away, but by Chapter 5 I knew I'd never leave you.
Ove (pronounced Oo-va in the audio version; O-V by a woman in a discussion thread with three generations of Oves in her family) is described, simply, as a grumpy man, and that he is. My friend and co-worker who read it before I did noted, "It ends as you probably expect it to end," which was also true. However, even though the story arc went as expected, by no means did it take away from the beauty of this book (and I'm pretty picky about that type of thing).
Amidst Ove's grouchiness and cringe-worthy straightforwardness are plenty of tender stories and insights, as well as many moments that made me laugh out loud. The wonder of this book is how well Fredrik Backman weaves these all together.
I haven't cherished a book this way in almost a year, and with its intricacies A Man Called Ove rises above the other. You don't need to just take my word for it. Fourteen of the fifteen people who attended the library's Kiva Book Club last month gave it a positive review, as did two other staff members.
I'm buying copies for my friends (because my friends live outside the range of our library, and it's worth buying) and I'm buying a copy of Backman's My Grandmother Asked Me to Tell You She's Sorry because I'm eager to read more of his work. That's the additonal evidence that his writing is relished by others; as I write, there are significant waiting lists on the many copies of all three of his books.
As Booklist captures it, "If there was an award for 'Most Charming Book of the Year,' this novel . . . would win, hands down."
O, Ove, Thanks for the memories.